8 reviews
3 out of 5 stars
based on 11 ratings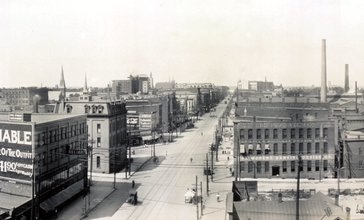 Erie is a city in and the county seat of Erie County, Pennsylvania, United States. Named for the lake and the Native American tribe that resided along its southern shore, Erie is the fourth-largest city in Pennsylvania, as well as the largest city in Northwestern Pennsylvania, with a population of 101,786 at the 2010 census. The estimated population in 2016 had decreased to 98,593. The Erie metropolitan area, equivalent to all of Erie County, consists of 276,207 residents. The Erie-Meadville, PA Combined Statistical Area has a population of 369,331, as of the 2010 Census. Erie is located halfway between the cities of Buffalo, New York, and Cleveland, Ohio, and due north of Pittsburgh, Pennsylvania. Erie's manufacturing sector remains prominent in the local economy, though health care, higher education, technology, service industries and tourism are emerging as significant economic drivers. Over four million people visit Erie during summer months for recreation at Presque Isle State Park, as well as attractions such as an indoor water park, Waldameer Park, and the casino and horse racetrack named for the state park. Erie is known as the "Flagship City" because of its status as the home port of Oliver Hazard Perry's flagship Niagara. The city has also been called the "Gem City" because of the sparkling lake. Erie won the All-America City Award in 1972, and in 2012 hosted the Perry 200, a commemoration, celebrating 200 years of peace between England, America and Canada following the War of 1812 and Battle of Lake Erie.
Managed by the Age Friendly Foundation
Erie has many good senior apartments, personal care facilities, nursing homes and home care services. There are services for the elderly such as the lift, meals on wheels etc.
Age Friendly Because Its In A School Zone So We Make Sure It Stay Safe For The Kids
There are resources and plenty of things for seniors to do
Community Engagement , The Community Have Lots Of Programs For Us Young People Helps Us Stay Off The Streets . Gives Us Something To Look Forward To.
There are quite a few senior housing apts and homes, specific transportation services
Senior Living Communities
Explore Home Care Options Near You
Find a Financial Professional Near You
Taxes