8 reviews
4 out of 5 stars
based on 9 ratings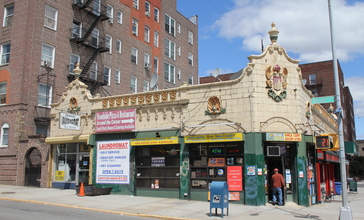 Woodside is a residential and commercial neighborhood in the western portion of the borough of Queens in New York City. It is bordered on the south by Maspeth, on the north by Astoria, on the west by Sunnyside, and on the east by Elmhurst and Jackson Heights. Some areas are widely residential and very quiet, while other parts, especially the ones around Roosevelt Avenue, are busier. The neighborhood is located in Queens Community Board 1 and Queens Community Board 2. In the 19th century the area was part of the Town of Newtown (now Elmhurst). The adjacent area of Winfield was largely incorporated into the post office serving Woodside and as a consequence Winfield lost much of its identity distinct from Woodside. However, with large-scale residential development in the 1860s, Woodside became the largest Irish American community in Queens, being approximately 80% Irish by the 1930s and maintaining a strong Irish culture today. In the early 1990s, many Asian American families moved into the area, with the population being 30% Asian American. South Asians and Latinos have also moved to Woodside in recent years. Reflecting its longtime diverse foods and drink, the neighborhood is filled with many cultural restaurants and pubs. It is also home to some of the city's most popular Thai, Filipino, and South American eateries.
Managed by the Age Friendly Foundation
There is actually two nursing homes near me and a couple of buildings where you usually see elderly people living there
People in my neighborhood are very corteous. They are also very helpful. The community where I am are very reliable. They're always willing to extend assistance.
There is always a bus running and always help for the elderly everything is accessible.
Very age friendly, seems like everybody says hello, and help each other .
Diversified, friendly people, different ethnic background.
Senior Living Communities
Explore Home Care Options Near You
Find a Financial Professional Near You
Taxes