12 reviews
3.5 out of 5 stars
based on 13 ratings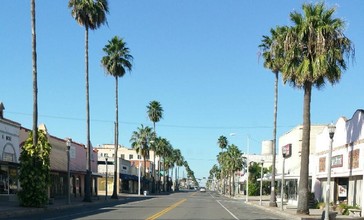 Weslaco is a city in Hidalgo County, Texas, United States. As of the 2010 census the population was 35,670, and in 2016 the estimated population was 40,033. It is located at the southern tip of Texas in the Rio Grande Valley near Mexican border, across the Rio Grande from the city of Nuevo Progreso, Rio Bravo, Tamaulipas. Weslaco derives its name from the W.E. Stewart Land Company. It was the hometown of Harlon Block, one of the Marines photographed raising the flag at Iwo Jima, and of film and television actor David Spielberg. Streets north of the railroad tracks have Spanish names, and streets south of the railroad tracks bear names in English, as a consequence of a 1921 municipal ordinance which declared that land north of the tracks be reserved for Hispanic residences and businesses, and land south of the tracks be reserved for "Anglo" residences and businesses. During World War II, sandbag production reached a peak in Weslaco, and the town declared itself the "sandbagging capital of the world". Weslaco is part of the McAllen–Edinburg–Mission and Reynosa–McAllen metropolitan areas.
Managed by the Age Friendly Foundation
The Rio Grande Valley cities and communities welcome the Winter Texans who come down each fall and stay throughout the winter. The cost of living is very reasonable and there are plenty of different functions that make the area very welcoming. Medical care is also in very good supply and the medical personal is well trained and receptive to their patients.
There are many elderly in area and are treated with respect due to their age
I believe it needs better understanding of how important it is in taking care of a señior care
I believe it needs more individual to know how it is in taking care of senior care
We need more people to see how it is to take care of an individual
Senior Living Communities
Explore Home Care Options Near You
Find a Financial Professional Near You
Taxes