22 reviews
4 out of 5 stars
based on 33 ratings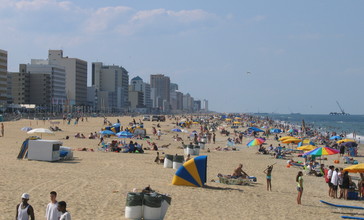 Virginia Beach is an independent city located on the southeastern coast of the Commonwealth of Virginia in the United States. As of the 2010 census, the population was 437,994. In 2015, the population was estimated to be 452,745. Although mostly suburban in character, it is the most populous city in Virginia and the 41st most populous city in the nation. Located on the Atlantic Ocean at the mouth of the Chesapeake Bay, Virginia Beach is included in the Hampton Roads metropolitan area. This area, known as "America's First Region", also includes the independent cities of Chesapeake, Hampton, Newport News, Norfolk, Portsmouth, and Suffolk, as well as other smaller cities, counties, and towns of Hampton Roads. Virginia Beach is a resort city with miles of beaches and hundreds of hotels, motels, and restaurants along its oceanfront. Every year the city hosts the East Coast Surfing Championships as well as the North American Sand Soccer Championship, a beach soccer tournament. It is also home to several state parks, several long-protected beach areas, three military bases, a number of large corporations, two universities, International headquarters and site of the television broadcast studios for Pat Robertson's Christian Broadcasting Network (CBN), Edgar Cayce's Association for Research and Enlightenment, and numerous historic sites. Near the point where the Chesapeake Bay and the Atlantic Ocean meet, Cape Henry was the site of the first landing of the English colonists, who eventually settled in Jamestown, on April 26, 1607. The city is listed in the Guinness Book of Records as having the longest pleasure beach in the world. It is located at the southern end of the Chesapeake Bay Bridge-Tunnel, the longest bridge-tunnel complex in the world.
Managed by the Age Friendly Foundation
Most of the neighbors have come over to welcome us in the comunity while others have kept to themselves
Age friendly because of general livability with the kids outside playing walking there pets.
In todays world, many individuals are seeking to open their own business without really understand the complex duties from beginning to end. Many individuals have their heart set on doing their own business, but have no idea how to get it started or how to manage it or how to be successful. The Age group I would target is the over 18 year olders.
good neightbors no crime and alot of neighbor hood activities
Senior Living Communities
Explore Home Care Options Near You
Find a Financial Professional Near You
Taxes