4 reviews
4 out of 5 stars
based on 6 ratings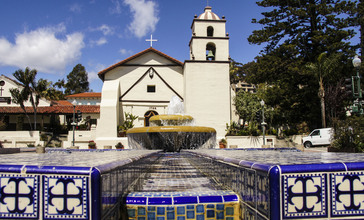 Ventura, officially the City of San Buenaventura, is the county seat of Ventura County, California, United States. European explorers encountered a Chumash village, referred to as Shisholop, in Ventura while traveling along the Pacific coast. The eponymous Mission San Buenaventura was founded nearby in 1782 where it benefitted from the water of the Ventura River. The town grew around the mission compound and incorporated in 1866. The development of nearby oil fields in the 1920s and the age of automobile travel created a major real estate boom during which many designated landmark buildings were constructed. The mission and these buildings are at the center of a downtown that has become a cultural, retail, and residential district and visitor destination. Ventura lies along U.S. Route 101 between Los Angeles and Santa Barbara, which was one of the original U.S. Routes. The highway is now known as the Ventura Freeway, but the original route through the town along Main Street has been designated El Camino Real, the historic pathway connecting the California missions. During the post–World War II economic expansion, the community grew easterly, building detached single family homes over the rich agricultural land created by the Santa Clara River at the edge of the Oxnard Plain. The population was 106,433 at the 2010 census, up from 100,916 at the 2000 census with the median age being 39. Ventura is part of the Los Angeles metropolitan area.
Managed by the Age Friendly Foundation
Our place has close access to public and private schools, churches, hospitals, grocery stores, parks, public transport and other amenities. We have a neighborhood watch and most of the residents are friendly. Two years back, all residents were evacuated because of the brush fire - every one looked after each other, making sure all of us were safe!
There are a lot of senior facilities.
There are a lot of people living here that have lived here all their lives. This is a great retirement community because the weather is exceptional. Lots to do for elderly. I myself was born and raised here. Beach weather, etc.
Cabrillo neighborhood is quiet and peaceful. They accept everyone of all ages and do not discriminate. My neighbors are of all ages and they have little ones along with pets. Everyone talks to one another and get along
Senior Living Communities
Explore Home Care Options Near You
Find a Financial Professional Near You
Taxes