3 reviews
3 out of 5 stars
based on 5 ratings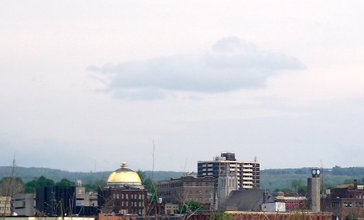 Utica ( ( listen)) is a city in the Mohawk Valley and the county seat of Oneida County, New York, United States. The tenth-most-populous city in New York, its population was 62,235 in the 2010 U.S. census. Located on the Mohawk River at the foot of the Adirondack Mountains, Utica is approximately 90 miles (145 km) northwest of Albany and 45 miles (72 km) east of Syracuse. Utica and the nearby city of Rome anchor the Utica–Rome Metropolitan Statistical Area, which comprises all of Oneida and Herkimer counties. Formerly a river settlement inhabited by the Mohawk tribe of the Iroquois Confederacy, Utica attracted European-American settlers from New England during and after the American Revolution. In the 19th century, immigrants strengthened its position as a layover city between Albany and Syracuse on the Erie and Chenango Canals and the New York Central Railroad. During the 19th and 20th centuries, the city's infrastructure contributed to its success as a manufacturing center and defined its role as a worldwide hub for the textile industry. Utica's 20th-century political corruption and organized crime gave it the nicknames "Sin City", and later, "the city that God forgot". Like other Rust Belt cities, Utica underwent an economic downturn beginning in the mid-20th century. The downturn consisted of industrial decline due to globalization and the closure of textile mills, population loss caused by the relocation of jobs and businesses to suburbs and to Syracuse, and poverty associated with socioeconomic stress and a decreased tax base. With its low cost of living, the city has become a melting pot for refugees from war-torn countries around the world, encouraging growth for its colleges and universities, cultural institutions and economy.
Managed by the Age Friendly Foundation
This place is very well mixed with all ages and races and are engaged with one another.
Nothing for young people and we have alot of young people who just have nothing no hope for forture
Senior Living Communities
Explore Home Care Options Near You
Find a Financial Professional Near You
Taxes