5 reviews
4 out of 5 stars
based on 7 ratings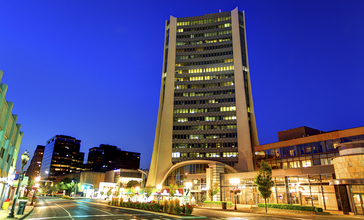 Stamford is a city in Fairfield County, Connecticut, United States. According to the 2010 census, the population of the city is 122,643. As of 2017, according to the Census Bureau, the population of Stamford had risen to 131,000, making it the third-largest city in the state (behind Bridgeport and New Haven) and the seventh-largest city in New England. Approximately 30 miles (50 kilometers) from Manhattan, Stamford is in the Bridgeport-Stamford-Norwalk Metro area which is a part of the Greater New York metropolitan area. Stamford is home to four Fortune 500 Companies, nine Fortune 1000 Companies, and 13 Courant 100 Companies, as well as numerous divisions of large corporations. This gives Stamford the largest financial district in the New York metropolitan region outside New York City itself and one of the largest concentrations of corporations in the United States.
Managed by the Age Friendly Foundation
It's a clean, and pleasant town
If you live near the downtown, it is very easy to walk to restaurants, the Palace Theater, the Avon Theater, and conventional movie theaters. In my neighborhood, I can walk to the big stores, the mall, and downtown. I love it!
age-friendly because a lot of people are retired there are a lot of nursing homes. big college and also great transportation
Activities for yong children and seniors.great school and puplic trasportation. close to the beach. There is a great school system here. A great public transportation system
Senior Living Communities
Explore Home Care Options Near You
Find a Financial Professional Near You
Taxes