8 reviews
4.5 out of 5 stars
based on 10 ratings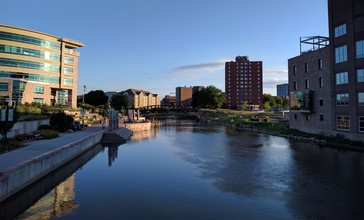 Sioux Falls () (Lakota: Íŋyaŋ Okábleča Otȟúŋwahe; "Stone Shatter City") is the most populous city in the U.S. state of South Dakota and the 145th-most populous city in the United States. It is the county seat of Minnehaha County. and also extends into Lincoln County to the south. It is the 47th fastest-growing city in the United States and the fastest-growing metro area in South Dakota, with a population increase of 22% between 2000 and 2010. As of 2018, Sioux Falls had an estimated population of 183,200. The metropolitan population of 251,854 accounts for 29% of South Dakota's population. It is also the primary city of the Sioux Falls-Sioux City Designated Market Area (DMA), a larger media market region that covers parts of four states and has a population of 1,043,450. Chartered in 1856 on the banks of the Big Sioux River, the city is situated in the rolling hills at the junction of Interstate 90 and Interstate 29.
Managed by the Age Friendly Foundation
Great town to raise kids in with lots of opportunities!
Families and people of all ages.
I've lived in Sioux Falls for about 3 years now. I love this city and I believe that the people here are the most friendly people I've encountered.
You will find mature adults still working in the job force after their fifties and much older. A variety of transportation is readily available all over Sioux Falls.
Explore Home Care Options Near You
Consider the benefits of an in-home caregiver. Care can range from 1 hour a day, to a few hours a week, to full time. Connect to a trusted provider today.
Find a Financial Professional Near You
With 9,000 financial professionals available across the nation and 4,500 on MassMutual.com, MassMutual is committed to helping you secure your future.
Taxes
A
How did South Dakota earn the grade of A? We examined the state taxes based on how age friendly they are. South Dakota has a state sales tax of 4.50%. Of particular interest is that South Dakota does not have taxes on social security. There are no estate taxes. There are no taxes imposed on inheritance. South Dakota has an effective property tax rate of 1.32%. Weighing these taxes and other taxes most likely to impact the aging population is how South Dakota earned its state tax grade of A.
Learn more about taxes in South Dakota