12 reviews
3 out of 5 stars
based on 15 ratings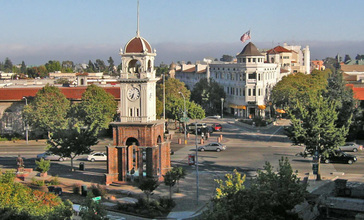 Santa Cruz (, Spanish: Holy Cross) is the county seat and largest city of Santa Cruz County, California. As of 2013 the U.S. Census Bureau estimated Santa Cruz's population at 62,864. Situated on the northern edge of Monterey Bay, about 32 mi (51 km) south of San Jose and 75 mi (120 km) south of San Francisco, the city is part of the 12-county San Jose-San Francisco-Oakland Combined Statistical Area. Santa Cruz is known for its moderate climate, natural environment, coastline, redwood forests, alternative community lifestyles, and socially liberal leanings. It is also home to the University of California, Santa Cruz, a premier research institution and educational hub, as well as the Santa Cruz Beach Boardwalk, an oceanfront amusement park operating continuously since 1907. The present-day site of Santa Cruz was the location of Spanish settlement beginning in 1791, including Mission Santa Cruz and the pueblo of Branciforte. Following the Mexican–American War of 1846–48, California became the 31st state in 1850. The City of Santa Cruz was incorporated in 1866 and chartered in April 1876. Important early industries included lumber, gunpowder, lime and agriculture. Late in the 19th century, Santa Cruz established itself as a beach resort community.
Managed by the Age Friendly Foundation
I have met most of my neighbors, they are very polite, keep their property cared for.
The fact that Santa Cruz is a tourist town, has a lathe assistancerge university population and a large homeless population makes the older population sometimes prey to the others. In addition, Santa Cruz is one of the 5 most expensive cities. Other than that, transportation and assistance for the elderly and disabled is phenominal.
The University is close by so we always have a younger generation that is super friendly and eager to be helpful I have found in the over all community of Santa Cruz. We are close to recreational activities, swimming, golf, tennis and just walking on the beach with our two dogs. I love this area and feel like this is home as it has a warmth and a overall low key feel.
There are plenty of things to do in this community
Senior Living Communities
Explore Home Care Options Near You
Find a Financial Professional Near You
Taxes