14 reviews
3 out of 5 stars
based on 16 ratings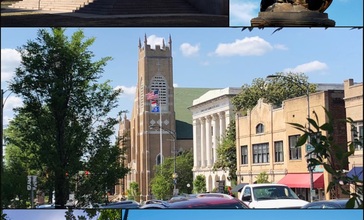 Salisbury is a city in North Carolina and the county seat of Rowan County, North Carolina, United States.
The population was 33,663 in the 2010 Census (growing 27.8% from the previous Census in 2000). Salisbury is the home to famed North Carolina soft drink, Cheerwine, regional supermarket Food Lion, and the National Sportscasters and Sportswriters Association. It is one of only two cities in North Carolina to have gigabit capacity through its municipally-owned broadband system Fibrant.
A press conference held September 3, 2015 at Catawba College announced Salisbury's Fibrant system is now capable of 10 gigabit capacity town-wide; believed to be the only town owned system in the world with this capacity.
Transportation
Amtrak train in Salisbury
Amtrak's Crescent and Carolinian and Piedmont trains serving the Northeast Corridor connect Salisbury with the cities of New York, Philadelphia, Baltimore, Washington, Richmond, Raleigh, Charlotte, Atlanta, Birmingham and New Orleans. The Amtrak station is situated at Depot and Liberty streets.
Salisbury is also served by Interstate 85, US Highways 601, 29, 52, and 70, and the Mid-Carolina Regional Airport (formerly Rowan County Airport).
Salisbury is just south of the halfway point between Charlotte and Greensboro. Exits 74 (Julian Road), 75 (US Highway 601/Jake Alexander Boulevard), and 76 (Innes Street/US Highway 52) are designated as Salisbury exits from I85.
The City of Salisbury's Transit System (STS) provides public transportation and offers three routes.[32] Each route arrives and departs from the " Transfer Site", which is located on Depot Street. Any member of the general public may ride the Salisbury Transit bus. Salisbury Transit does not operate on Sundays and some holidays.
Health care
Novant Health Rowan Medical Center and affiliated doctors' offices provide a majority of the city residents' healthcare. The W.G. (Bill) Hefner VA Medical Center is a veterans' hospital in Salisbury and is operated by the United States Department of Veterans Affairs.
Managed by the Age Friendly Foundation
I have been a caregiver for the last 30 years working in private care and nursing homes knowing and interacting with people over 60 years old
I have been a caregiver for the last 30 years working in private care and nursing homes knowing and interacting with people over 60 years old
I'm not sure everyone is friendly but i haven't been here long myself
Has living apartments for 55 and over, has bus transportation sercice, shopping stores
Good place for age friendly people to enjoy there way of living, reliable transportation, thing to do and how for activities
Senior Living Communities
Explore Home Care Options Near You
Find a Financial Professional Near You
Taxes