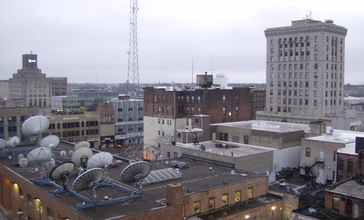 Saginaw () is a city in the U.S. state of Michigan and the seat of Saginaw County. The city of Saginaw and Saginaw County are both located in the area known as Mid-Michigan or Central Michigan. The city of Saginaw is located adjacent to Saginaw Charter Township and is considered part of the Tri-City area, along with neighboring Bay City and Midland. The Saginaw County MSA had a population of 196,542 in 2013. The city is also the largest municipality within the Saginaw, Midland, and Bay City Metropolitan Area. The city of Saginaw was a thriving lumber town in the 19th century and an important industrial city and manufacturing center throughout much of the 20th century. However, by the late 20th century, Saginaw's industry and its once-strong manufacturing presence declined, leading to increasing unemployment, crime, and a decrease in population. Neighboring communities, such as Saginaw Charter Township, saw subsequent population increases while the city itself is projected to return to normal population growth after the decades-long structural changes to the economy. Currently, economic development is focused on comparative advantages in innovation, clean energy, and continued manufacturing exports. Compared to other mid-sized communities, Saginaw has a disproportionately high number of patents per employee, and more than 81 times the average US share of jobs in photovoltaic technology research and production. The city continues to have a higher proportion of manufacturing jobs in comparison to the US.
Managed by the Age Friendly Foundation
I have recently moved here and there seems to be a lot of people my same age on my street, time is it
Caters to Senior Citizens
Transportation available. Some school involvement. Community living available
My family has only lived in this community for one year and I am unfamiliar with whether it is age friendly or not.
my home town is getting scary some people drive crazy common sense is lacking. can't really walk down the street safely
Senior Living Communities
Explore Home Care Options Near You
Find a Financial Professional Near You
Taxes