5 reviews
3.5 out of 5 stars
based on 5 ratings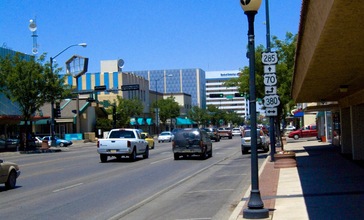 Roswell is a city in New Mexico. It is the county seat of Chaves County in the southeastern quarter of the state of New Mexico, United States. As of the 2010 census it had a population of 48,411, making it the fifth-largest city in New Mexico. It is a center for irrigated farming, dairying, ranching, manufacturing, distribution, and petroleum production. It is also the home of New Mexico Military Institute (NMMI), founded in 1891. Bitter Lake National Wildlife Refuge is located a few miles northeast of the city on the Pecos River. Bottomless Lakes State Park is located 12 miles (19 km) east of Roswell on US 380. Roswell is most popularly known for having its name attached to what is now called the Roswell UFO incident, though the crash site of the alleged UFO was some 75 miles (121 km) from Roswell and closer to Corona. The investigation and debris recovery was handled by the local Roswell Army Air Field. Roswell is a popular town for tourists from around the country because of its many alien-themed stores, restaurants, museums, and other attractions, including a McDonald's location built in the form of a flying saucer.
Managed by the Age Friendly Foundation
This location is age friendly because I am age friendly as well as others I know.The town has meals on wheels, an adult recreation center, 2 golf courses, a walking trail, 2 large parks.
It is a very peaceful environment and the people are very cordial.
There's plenty of places the elderly can go to do activities
Well very livability care working.honest.supportive community
My community is age friendly.
Senior Living Communities
Explore Home Care Options Near You
Find a Financial Professional Near You
Taxes