4 reviews
3 out of 5 stars
based on 6 ratings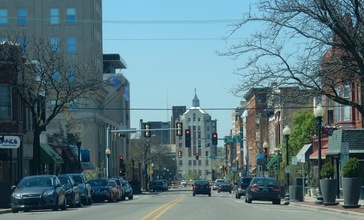 Rockford is the third largest city in the U.S. state of Illinois, the 171st most populous city in the United States, the largest city in Illinois outside the Chicago metropolitan area, and the city of the 148th most populous metropolitan area in the United States. It is the county seat of Winnebago County and is located on both banks of the Rock River in far northern Illinois. A small portion of Rockford dips down into neighboring Ogle County. According to 2010 census data, the City of Rockford had a population of 152,871, with an outlying metropolitan area population of 348,360, which was estimated to have decreased to 150,251 and 344,623, respectively, by July 2013. During 2017, a special census was completed putting the population at 153,379. Settled between 1834 and 1835, Rockford was strategically positioned between Chicago and Galena and thus became suitable for industrial development. Rockford was notable for its output of heavy machinery and tools; by the twentieth century, it was the second leading center of furniture manufacturing in the nation, and 94th largest city. Its decline, emblematic of other cities in the Rust Belt, led to economic diversification into automotive, aerospace, and healthcare industries, as well as the undertaking of various tourism and downtown revitalization efforts. Nicknamed the Forest City, Rockford is known for various venues of cultural or historical significance, including Anderson Japanese Gardens, Klehm Arboretum, Tinker Swiss Cottage, the BMO Harris Bank Center, the Coronado Theatre, the Laurent House, and the Burpee Museum of Natural History. Its contributions to music are noted in the Mendelssohn Club, the oldest music club in the nation, and performers such as Phantom Regiment and Cheap Trick.
Managed by the Age Friendly Foundation
All sorts of people are welcomed here. Everyone minds their own business
Where im from i see and meet friendly people daily they welcome you with open arms love and care.
Most of the neighborhood try looking out each other when they can.
Senior Living Communities
Explore Home Care Options Near You
Find a Financial Professional Near You
Taxes