26 reviews
4 out of 5 stars
based on 29 ratings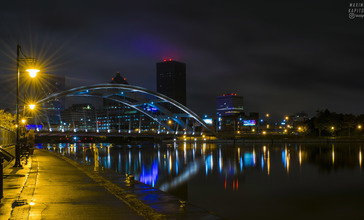 Rochester is a city on the southern shore of Lake Ontario in western New York.
With a population of 208,880 residents, Rochester is the seat of Monroe County and the third most populous city in New York state, after New York City and Buffalo.
The metropolitan area has a population of just over 1 million people. Rochester was America's first boomtown, initially due to fertile Genesee River Valley, which gave rise to numerous flour mills, and then as a manufacturing hub. Several of the region's universities (notably the University of Rochester and Rochester Institute of Technology) have renowned research programs.
Rochester is the site of many important inventions and innovations in consumer products. The Rochester area has been the birthplace to Kodak, Western Union, Bausch & Lomb, Gleason and Xerox, which conduct extensive research and manufacturing of industrial and consumer products.
Until 2010, the Rochester metropolitan area was the second-largest regional economy in New York State, after the New York City metropolitan area. Rochester's GMP has since ranked just below that of Buffalo, New York, while still exceeding it in per-capita income.
The 25th edition of the Places Rated Almanac rated Rochester as the "most livable city" in 2007, among 379 U.S. metropolitan areas.
In 2010 Forbes rated Rochester as the third-best place to raise a family in the United States. In 2012 Kiplinger rated Rochester as the fifth-best city in the United States for families, citing low cost of living, top public schools, and a low jobless rate.
Managed by the Age Friendly Foundation
Everyone is different from ethnicity to religion in the community but everyone gets along.
Rochester is a very age friendly community. There is many cate facilities and community encouragement in Rochester.
Opportunities for social activities, medical care and transportation for seniors.
Opportunities for social activities, medical care and transportation for seniors.
Its in Upstate NY is a very old city , no one knew of this place, but is has lots of history. The university Cornell , Harriet Tubman, Fredrick Douglas, and the start of Women rights.There is many elder people who participate with volunteer organization and is it a good place to retire.
Senior Living Communities
Explore Home Care Options Near You
Find a Financial Professional Near You
Taxes