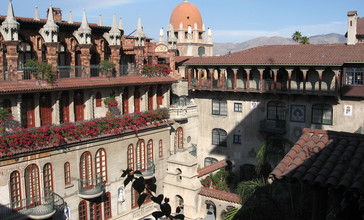 Riverside is a city in Riverside County, California, United States, located in the Inland Empire metropolitan area. Riverside is the county seat of the eponymous county and named for its location beside the Santa Ana River. It is the most populous city in the Inland Empire and in Riverside County, and is located about 60 miles (97 km) east of Los Angeles. It is also part of the Greater Los Angeles area. Riverside is the 59th most populous city in the United States and 12th most populous city in California. As of the 2010 Census, Riverside had a population of 303,871. Riverside was founded in the early 1870s. It is the birthplace of the California citrus industry and home of the Mission Inn, the largest Mission Revival Style building in the United States. It is also home to the Riverside National Cemetery. The University of California, Riverside, is located in the northeastern part of the city. The university also hosts the Riverside Sports Complex. Other attractions in Riverside include the Fox Performing Arts Center, Riverside Metropolitan Museum, which houses exhibits and artifacts of local history, the California Museum of Photography, the California Citrus State Historic Park, and the Parent Washington Navel Orange Tree, the last of the two original navel orange trees in California.
Managed by the Age Friendly Foundation
Very friendly. Handicapped applicatble. Great transport. Community calm. . Age friendly to all stores special accommodations for elderly.
Very caring people. Friendly atmosphere. And like hearted.
its a lot of people that live here that are not friendly
Riverside has at least 3 Senior Centers, offers door to door transportation to seniors, Kaiser Permanente Hospital and many Senior apartments.
Corona is a very age friendly place. It has an amazing education system and working environment. There is a kindness to their community as they create a lot of fun activities for engagement between neighborhoods and schools. I have been fortunate enough to experience and work in this amazing place as I pursue my dreams of becoming a teacher here.
Senior Living Communities
Explore Home Care Options Near You
Find a Financial Professional Near You
Taxes