5 reviews
4 out of 5 stars
based on 6 ratings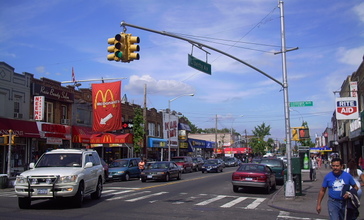 Richmond Hill is a racially and culturally integrated urban neighborhood in southwestern Queens County, a borough of New York City. It abuts Kew Gardens (North), Jamaica (East), Ozone and South Ozone Park (South), and Woodhaven (West). The neighborhood is split between Queens Community Board 9 and 10. Main commercial streets in the neighborhood include Jamaica Avenue, Atlantic Avenue and Liberty Avenue; Richmond Hill is home to a density of Christian churches (both major denominations and storefront), Sikh gurdwaras, Hindu mandirs, Jewish synagogues, and Muslim masjids. Richmond Hill is known as Little Guyana-Trinidad and Tobago, for its large Indo-Guyanese, Indo-Trinidadian and Tobagonian, and Indo-Caribbean immigrant population, as well as Little Punjab, for its large Punjabi immigrant population. Many residents own their own homes, and some rent out apartments in them. There are also some small apartment buildings. Commercial strips along Jamaica and Liberty Avenue contain mixed use buildings. Atlantic Avenue is commercial. A Long Island Railroad spur and yard provides freight access for business at Jamaica Avenue and Lefferts Boulevard. The ZIP code for Richmond Hill is 11418 and for South Richmond Hill it is 11419.
Managed by the Age Friendly Foundation
It depends on the early exposure of an individuals to what is expected from them to Aged community in general
I've recently just moved into this community, but since I've moved here I've seen that this community is very supportive with policies and services that allows all age group to participate in all engaging activities in peace and good health, surrounding the community and to enjoy it.
Because it's a affordable place to live
Good transportation, shopping, many clinics and Doctors , hospital near by all close and pharmacies close late I like that we have caring professionals and all withing walking or short distances
The cultures that are in this neighborhood makes it age friendly. The main cultures are of South Asian and Indo-Caribbean Americans. They have extended families which include their elders.
Senior Living Communities
Explore Home Care Options Near You
Find a Financial Professional Near You
Taxes