6 reviews
3.5 out of 5 stars
based on 7 ratings
Member of the World Health Organization Global Network of Age Friendly Cities and Communities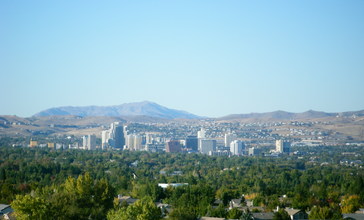 Reno ( REE-noh) is a city in the U.S. state of Nevada. It is in Northern Nevada, approximately 22 miles (35 km) from Lake Tahoe. Known as "The Biggest Little City in the World", Reno is famous for its hotels and casinos and as the birthplace of Harrah's Entertainment (now known as Caesars Entertainment Corporation). It is the county seat of Washoe County, in the northwestern part of the state. The city sits in a high desert at the foot of the Sierra Nevada and its downtown area (along with Sparks) occupies a valley informally known as the Truckee Meadows. It is named after slain Union general Jesse L. Reno. Reno is the most populous Nevada city outside the Las Vegas Valley, with an estimated population of 241,445 in 2015. Reno is part of the Reno–Sparks metropolitan area, which consists of all of both Washoe and Storey counties and has a 2016 estimated population of 457,667.
Managed by the Age Friendly Foundation
The issue I am most aware of is that of transportation. Reno does not have good transportation for elderly, indigent, or mentally disabled. I am aware of a non-profit that is working to remedy this situation, Neighbor Network of Northern Nevada.
It's a beautiful area for walking around the lake and feeding ducks and geese and general walking
I wish Reno had more bus routes
Reno is one of the most diverse cities I have ever lived in. There are people of all ages and ethnic backgrounds. Public transit is also one of the best, from the north valleys through the Reno/Sparks area and into Carson City.
Rental prices are double what they should be, cost of living is double what people can afford. The bus system is very limited and you generally have to take two buses to get where your going and you always have to walk a good distance to get to a bus stop and after you get off at the nearest stop. Jobs pay minimum wage and what is considered a good wage is rarely more than $10 an hour, which won't even get you a tiny studio or a room in a filthy motel. The schools are shameful and educators are rarely even a little intelligent. If you're over 55 you may as well just die especially if you're a woman. Half of this town has no sidewalks so you have to walk in the street even at bus stops. The litter is overwhelming, the homeless population grows a lot everyday and there are hundreds of unoccupied apartments that have rent amounts that are out of reach for low-income people especially seniors. Disabled and seniors make up a good portion of the homeless. I have also seen whole families living in their cars. If I could rate it less than zero I would. It's the worst place I've ever lived and I've lived in several cities around the country including Chicago, Detroit, Los Angeles,and Dallas. If I could ever save enough money to move I would but under the current circumstances it seems impossible. If it wasn't for charitable donations to food banks people on fixed incomes like social security would starve to death.
Senior Living Communities
Explore Home Care Options Near You
Find a Financial Professional Near You
Taxes