8 reviews
4 out of 5 stars
based on 8 ratings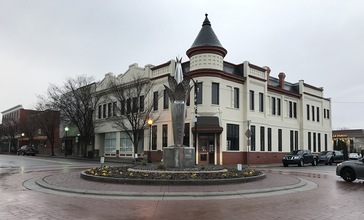 Reidsville is a city in Rockingham County, North Carolina, United States. At the 2010 census, the city had a total population of 14,520. Reidsville was established in the early 19th century as an outpost and stop on the stage line that ran between Salisbury, North Carolina, and Danville, Virginia, and was originally known as Wright's Crossroads. The community grew from a single home and inn owned by the family of Reuben Reid, a local farmer, businessman, justice of the peace and father of David S. Reid), into a thriving farming community primarily supporting tobacco production and cigarette manufacturing. Reidsville was officially incorporated by the North Carolina State Legislature in 1873 and became a key location of the American Tobacco Company which employed large numbers of city and county residents. The American Tobacco Company was the mainstay of Reidsville economics until its sale and closure in 1994. Many textile mills were established in Reidsville as well, with Cone Mills and Burlington Industries, located in Burlington North Carolina, consolidating most of them in the mid-20th century, although most have now closed. Although Reidsville has experienced economic recession in recent years the community has enjoyed a renewal of growth as a sleeper city supplying a source of rural development for the surrounding larger cities.
Managed by the Age Friendly Foundation
The people engages well with each other and are willing to help others who are in need. Friendly place to live as it is a relaxed astmosphere, transportation is provided for those who don't have access to their own transportation, access to community college, local and out of town to doctor appointments, and some good community activites to attend.
Because that the way i was training
great small city in NC. Housing costs are lower,has transportation buses for aged and disabled, Community College nearby, Hospital in town.
I feel that it is age friendly as it has homes for the elderly, transportation options. My mother's church has many outings for the retired (mom is 83) and it would be great if we could take part of these activities if I was caring for someone!
Senior Living Communities
Explore Home Care Options Near You
Find a Financial Professional Near You
Taxes