16 reviews
3.5 out of 5 stars
based on 16 ratings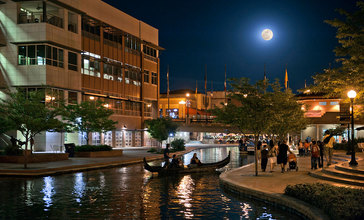 Pueblo is a home rule municipality that is the county seat and the most populous city of Pueblo County, Colorado, United States. The population was 106,595 in 2010 census, making it the 267th most populous city in the United States and the 9th largest in Colorado. Pueblo is the heart of the Pueblo Metropolitan Statistical Area totaling over 160,000 people and an important part of the Front Range Urban Corridor. As of 2014, Pueblo is the primary city of the Pueblo–Cañon City combined statistical area (CSA) totaling approximately 208,000 people, making it the 134th largest in the nation. Pueblo is situated at the confluence of the Arkansas River and Fountain Creek, 112 miles (180 km) south of the Colorado State Capitol in Denver. The area is considered semi-arid desert land, with approximately 12 inches (304.80 mm) of precipitation annually. With its location in the "Banana Belt", Pueblo tends to get less snow than the other major cities in Colorado. Pueblo is one of the largest steel-producing cities in the United States, for which reason Pueblo is referred to as the "Steel City". The Historic Arkansas River Project (HARP) is a river walk in the Union Avenue Historic Commercial District, and shows the history of the devastating Pueblo Flood of 1921. Pueblo has the least expensive residential real estate of all major cities in Colorado. The median home price for homes on the market in Pueblo is $147,851 as of February 2013. It is the sixth most affordable place to live in America as measured by the 2014 Cost of Living Index. Costs of housing, goods and services, utilities, transportation, groceries and health care are lower than the national average. Pueblo was listed by AARP in 2013 as one of the Best Places to Live in the USA.
Managed by the Age Friendly Foundation
Pueblo has the cheapest housing of any city in Pueblo. Weather is very temperate. Harsh winters occur about every 20 years. lots of Recreation available....Bike paths, very large Reservoir, for boating, fiishing, etc. I can see the mountains all the way around the horizon. Mountains are close enough for easy day trips, but far enough not to disrupt almost ideal weather. I am a 30 year Minnesota transplant and I love it here.
I was a CNa for twenty five years but when my knees gave out I could not do this anymore. I enjoy this work so much more.
pueblo west seems to have a lot of retired citizens. very pleasant place
MILITARY AND SENIORS CITIZEN PLUS RETIREMENT
MILITARY AND SENIORS CITIZEN PLUS RETIREMENT
Senior Living Communities
Explore Home Care Options Near You
Find a Financial Professional Near You
Taxes