7 reviews
4 out of 5 stars
based on 7 ratings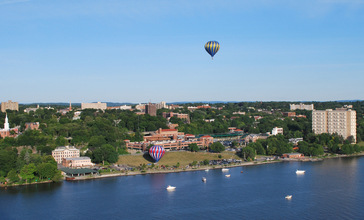 Poughkeepsie (pə-KIP-see), officially the City of Poughkeepsie, is a city in the state of New York, United States, which is the county seat of Dutchess County. As of the 2010 census it had a population of 32,736. Poughkeepsie is in the Hudson Valley midway between New York City and Albany, and is part of the New York metropolitan area. The name derives from a word in the Wappinger language, roughly U-puku-ipi-sing, meaning "the reed-covered lodge by the little-water place," referring to a spring or stream feeding into the Hudson River south of the present downtown area. Poughkeepsie is known as "The Queen City of the Hudson". It was settled in the 17th century by the Dutch and became New York's second capital shortly after the American Revolution. It was chartered as a city in 1854. Major bridges in the city include the Walkway over the Hudson, a former railroad bridge (originally called the Poughkeepsie Bridge), which re-opened as a public walkway on October 3, 2009; and the Mid-Hudson Bridge, a major thoroughfare built in 1930 that carries U.S. Route 44 (concurrent with State Route 55) over the Hudson. The city of Poughkeepsie lies in New York's 18th congressional district.
Managed by the Age Friendly Foundation
Age Friendly: Lots of resources and community outreach, educational programs. Easy access to health care.
Age Unfriendly: Transportation is an issue as very little public transportation. Housing costs can be prohibitive.
it is a very prosperous community with a lot college school , manufacture, with reliable transportion and with senior social club
My church gives food to the less fortunate and makes meals around the holidays .
Lots of different things to do
Good public transportation. Lots of senior discounts at local retailers.
Senior Living Communities
Explore Home Care Options Near You
Find a Financial Professional Near You
Taxes