Palestine

Palestine
Texas
7 reviews
3 out of 5 stars
based on 8 ratings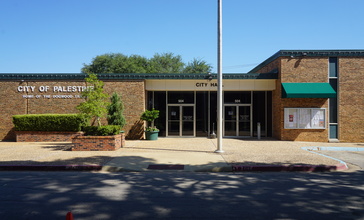 Palestine ( PAL-i-steen) is a city in Anderson County, Texas, in the United States. As of the 2010 census, the city population was 18,712. It is the county seat. Palestine was named for Palestine, Illinois, by Daniel Parker. Palestine is a relatively small town located in the Piney Woods equidistant from the major airport cities of Dallas, Houston and Shreveport and is notable for its natural environment, including the dogwood floral blooming season, for 23 historical sites on the National Register of Historic Places and is the western terminus of the Texas State Railroad, a steam and diesel railroad museum operating between Palestine and Rusk.
Managed by the Age Friendly Foundation
I'm really not sure if this town ins age friendly or not.
Almost everyone in this town is mature.
This community is diversity with all ages and everybody try to look out for each other and protect and watch the neighborhood from the wrong people
You can not get a job if you're older. They have a new scheme to find out how old you are. They ask you what year you graduated high school and when you answer truthfully they simply hang up on you when doing a telephone interview!
Senior Living Communities
Explore Home Care Options Near You
Find a Financial Professional Near You
Taxes