59 reviews
3.5 out of 5 stars
based on 88 ratings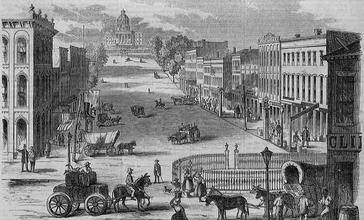 Montgomery () is a major city and the capital of the U.S. state of Alabama and the county seat of Montgomery County. Named for Richard Montgomery, it is located on the Alabama River, in the Gulf Coastal Plain. As of the 2013 Census, Montgomery has a population of 201,332. It is the second-largest city in Alabama, after Birmingham, and is the 115th largest in the United States. The Montgomery Metropolitan Statistical Area had a 2010 estimated population of 374,536. It is the fourth-largest in the state and 136th among United States metropolitan areas. The city was incorporated in 1819 as a merger of two towns situated along the Alabama River. It became the state capital in 1846, representing the shift of power to the south-central area with the growth of cotton as a commodity crop of the Black Belt and the rise of Mobile as a mercantile port on the Gulf Coast. In February 1861, Montgomery was selected as the first capital of the Confederate States of America, until the seat of government moved to Richmond, Virginia, in May of that year. During the mid-20th century, Montgomery was a major center of events and protests in the Civil Rights Movement, including the Montgomery Bus Boycott and the Selma to Montgomery marches. In addition to housing many Alabama government agencies, Montgomery has a large military presence due to Maxwell Air Force Base; public universities Alabama State University, Troy University (Montgomery campus), and Auburn University at Montgomery; private colleges/universities Faulkner University and Huntingdon College; high-tech manufacturing, including Hyundai Motor Manufacturing Alabama; and cultural attractions such as the Alabama Shakespeare Festival and Montgomery Museum of Fine Arts. Two ships of the United States Navy have been named after the city, including USS Montgomery. Montgomery has won several national awards: Best Historic City by USA Today, All-America City in 2014 by the National Civic League, "Top City For Job Growth" in 2014 by ziprecruiter.com, and the 'happiest city in Alabama.' Montgomery has also been recognized nationally for its downtown revitalization and new urbanism projects. It was one of the first cities in the nation to implement Smart Code Zoning.
Managed by the Age Friendly Foundation
I feel this way because they have good personalities, vibes & care very much about others they're always there for each other making sure each other is good.
Just the city as a whole has the pros and cons.
Montgomery is historic and quiet for the most part so living here in retirement seems like a good idea and the cost of living is low
We have a lot of elderly Residents that has lived in This Neighborhood for years.
My neighborhood is more mixed than anything. It's safe, friendly, quiet, and it's well kept up. Plus we have police as neighbors and a wonderful camera system.
Senior Living Communities
Explore Home Care Options Near You
Find a Financial Professional Near You
Taxes