5 reviews
3.5 out of 5 stars
based on 7 ratings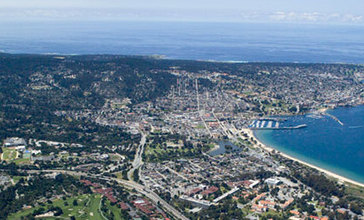 Monterey is a city located in Monterey County in the U.S. state of California, on the southern edge of Monterey Bay on California's Central Coast. It stands at an elevation of 26 feet (8 m) above sea level, on a land area of 8.466 sq mi (21.93 km2).The 2010 census recorded a population of 27,810. Monterey was the capital of Alta California under both Spain and Mexico. It was the only port of entry for taxable goods in California. In 1846, the U.S. flag was raised over the Customs House, and California became part of the United States after the Mexican–American War. The city had California's first theater, public building, public library, publicly funded school, printing press, and newspaper. The city and surrounding area have attracted artists since the late 19th century and many celebrated painters and writers have lived there. Until the 1950s, there was an abundant fishery. Among Monterey's notable present-day attractions are the Monterey Bay Aquarium, Cannery Row, Fisherman's Wharf and the annual Monterey Jazz Festival.
Managed by the Age Friendly Foundation
Monterey, my hometown, is a beautiful place for people to settle and raise a family. I think it is an incredible place for people of all ages due to the access that its inhabitants have to nature. This also allows for tremendous educational opportunities for children, better job opportunities in the service industry and many other professional areas, and an ideal place to retire.
It seems different and peaceful aural around. The way everyone drives around the town is easygoing with respect and resposability.
Accessible to all aged peoples needs the farthest is 3 miles. Transport facilities are available. Medical hospitals are nearby.
Few work opportunities for full time; expensive housing; outstanding public transportation
Senior Living Communities
Explore Home Care Options Near You
Find a Financial Professional Near You
Taxes