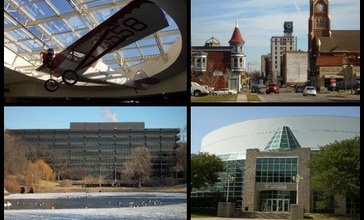 Moline is a city located in Rock Island County, Illinois, United States.
With a population of 43,977 in 2010, it is the largest city in Rock Island County. Moline is one of the Quad Cities, along with neighboring East Moline and Rock Island in Illinois and the cities of Davenport and Bettendorf in Iowa. The Quad Cities have an estimated population of 381,342.
The city is the ninth-most populated city in Illinois outside the Chicago Metropolitan Area. The corporate headquarters of Deere & Company is located in Moline, as was Montgomery Elevator, which was founded and headquartered in Moline until 1997, when it was acquired by Kone Elevator, which has its U.S. Division headquartered in Moline. Quad City International Airport, Niabi Zoo, Black Hawk College, and the Quad Cities campus of Western Illinois University-Quad Cities.
Moline is a retail hub for the Illinois Quad Cities, as South Park Mall and numerous big-box shopping plazas are located in the city. In the mid-1990s, the city undertook major efforts to revitalize its central business district, which had declined after suburban growth and retail changes after the 1950s and 1960s.
Today, Moline's downtown again serves as one of the civic and recreational hubs of the Quad Cities; many events take place at the 12,000-seat TaxSlayer Center (formerly known as The MARK of the Quad Cities and iWireless Center) and at John Deere Commons. Downtown Moline features hotels such as Radisson and Stoney Creek Inn, and commercial areas such as Bass Street Landing and the historic 5th Avenue.
Managed by the Age Friendly Foundation
I have 60yr. Old neighbors they are wonderful, warming and polite people. They make me and my family feel at home and safe. We help out each other daily and the respect level and friendships remain the same.
I grew up in Moline and I've always known Moline to be very age friendly and respectable to the residents
nice people. stores close by and it has bus route that will get your where ever you need to be.
There a several Nursing Homes and Senior Living Facilities in the area.
Senior Living Communities
Explore Home Care Options Near You
Find a Financial Professional Near You
Taxes