23 reviews
4 out of 5 stars
based on 28 ratings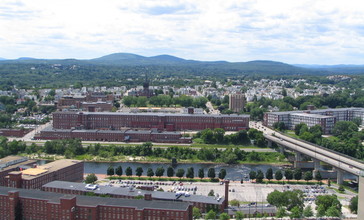 Manchester is the most populous city in the U.S. state of New Hampshire and the largest city in northern New England, an area comprising the states of Maine, New Hampshire, and Vermont. As of the 2010 census, the city had a population of 109,565, and its estimated 2016 population was 110,506. It is one of two seats of Hillsborough County (along with Nashua), the state of New Hampshire's most populous county. Manchester is located near the northern end of the Northeast megalopolis, along the banks of the Merrimack River—which divides the city into eastern and western sections. It was first named by the merchant and inventor Samuel Blodgett (after whom Samuel Blodget Park and Blodget Street in Manchester's North End are named). Blodget's vision was to create a great industrial center similar to that of the original Manchester in England, which was the world's first industrialized city. Manchester often appears favorably in lists ranking the affordability and livability of U.S. cities. In 2015, CNNMoney.com ranked it #1 in the U.S. for small businesses, and in 2009, another site ranked Manchester 13th in a list of the 100 best cities in the U.S. to live and launch a business. In addition, Kiplinger voted Manchester the second most tax-friendly city in the U.S., second only to Anchorage, Alaska. Also in 2009, Forbes magazine ranked the Manchester region first on its list of "America's 100 Cheapest Places to Live." According to the Equality of Opportunity Project, released in 2013, Manchester ranked as the seventh best metropolitan area in the U.S. in terms of upward income mobility. In 2014, Forbes magazine ranked this city among the top 5 most educated cities in the United States.
Managed by the Age Friendly Foundation
I think manchester offers a lot for all ages. Its a great community, there's great education. The hospital is wonderful. Great staff.
car needed for transportation
People need a car to get around. Some areas are rural.
Most people are nice but then you always have the sour apple in the bunch. That is when you wish them well and move on with your day.
Senior Living Communities
Explore Home Care Options Near You
Find a Financial Professional Near You
Taxes