15 reviews
4 out of 5 stars
based on 26 ratings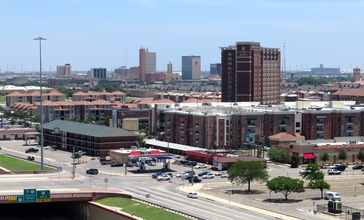 Lubbock ( LUB-ək) is a city in and the county seat of Lubbock County, Texas, United States. The city is located in the northwestern part of the state, a region known historically and geographically as the Llano Estacado and ecologically is part of the southern end of the High Plains. According to a 2015 Census estimate, Lubbock had a population of 252,506. making it the 83rd-most populous city in the United States of America and the 11th-most populous city in the state of Texas. The city is the economic center of the Lubbock metropolitan area, which has a projected 2020 population of 327,424. Lubbock's nickname, "Hub City", derives from it being the economic, educational, and health care hub of the multicounty region, north of the Permian Basin and south of the Texas Panhandle, commonly called the South Plains. The area is the largest contiguous cotton-growing region in the world and is heavily dependent on water drawn from the Ogallala Aquifer for irrigation. Lubbock was selected as the 12th-best place to start a small business by CNNMoney.com. CNN mentioned the city's traditional business atmosphere: low rent for commercial space, central location, and cooperative city government. Lubbock is home to Texas Tech University, the sixth-largest college by enrollment in the state. Lubbock High School has been recognized for three consecutive years by Newsweek as one of the top high schools in the United States based in part on its international baccalaureate program.
Managed by the Age Friendly Foundation
Programs, lots of churches, age friendly living complexes, transportation.
Everyone in the neighborhood are very friendly and courteous and always looking out for one another
Different people and different lifestyles
no matter who or what you are we try to go above and beyond
Senior Living Communities
Explore Home Care Options Near You
Find a Financial Professional Near You
Taxes