18 reviews
4 out of 5 stars
based on 18 ratings
Member of the World Health Organization Global Network of Age Friendly Cities and Communities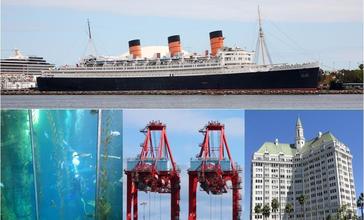 Long Beach is a city on the Pacific Coast of the United States, within the Greater Los Angeles area of Southern California. As of 2010, its population was 462,257. It is the 36th most populous city in the United States and the 7th most populous in California. Long Beach is the second-largest city in the Los Angeles metropolitan area and the third largest in Southern California behind Los Angeles and San Diego. Long Beach is a charter city. The Port of Long Beach is the second busiest container port in the United States and is among the world's largest shipping ports. The city also maintains a progressively declining oil industry with minor wells located both directly beneath the city as well as offshore. Manufacturing sectors include those in aircraft, automotive parts, electronic equipment, audiovisual equipment, petrochemicals, precision metals and home furnishings. Long Beach lies in the southeastern corner of Los Angeles County and borders Orange County. Downtown Long Beach is approximately 22 miles (35 km) south of downtown Los Angeles, though the two cities share an official border for several miles.
Managed by the Age Friendly Foundation
Very quite, Transportation near by. Grocery stores and pharmacies near by.
Very accomodating and the community is cooperative.
We have a lot of kids here! Everyone that I see or come into contact with loves kids! It is a great place right by the beach. Big city lots of options for jobs. Close knit community
People speak most of the time
People work and get along well
Senior Living Communities
Explore Home Care Options Near You
Find a Financial Professional Near You
Taxes