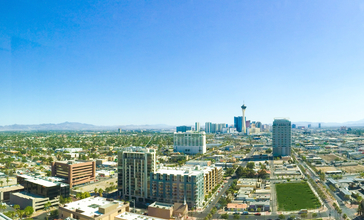 Las Vegas, officially the City of Las Vegas and often known simply as Vegas, is the 28th-most populated city in the United States, the most populated city in the state of Nevada, and the county seat of Clark County.
The city anchors the Las Vegas Valley metropolitan area and is the largest city within the greater Mojave Desert. Las Vegas is an internationally renowned major resort city, known primarily for its gambling, shopping, fine dining, entertainment, and nightlife. The Las Vegas Valley as a whole serves as the leading financial, commercial, and cultural center for Nevada.
The city bills itself as The Entertainment Capital of the World, and is famous for its mega casino–hotels and associated activities. It is a top three destination in the United States for business conventions and a global leader in the hospitality industry, claiming more AAA Five Diamond hotels than any other city in the world.
Today, Las Vegas annually ranks as one of the world's most visited tourist destinations. The city's tolerance for numerous forms of adult entertainment earned it the title of Sin City, and has made Las Vegas a popular setting for literature, films, television programs, and music videos. Las Vegas was settled in 1905 and officially incorporated in 1911. At the close of the 20th century, it was the most populated American city founded within that century (a similar distinction earned by Chicago in the 1800s).
Population growth has accelerated since the 1960s, and between 1990 and 2000 the population nearly doubled, increasing by 85.2%. Rapid growth has continued into the 21st century, and according to a 2017 estimate, the population is 648,224 with a regional population of 2,248,390.
"Las Vegas" is often used to describe areas beyond official city limits—especially the areas on and near the Las Vegas Strip, which is actually located within the unincorporated communities of Paradise, Winchester, and Enterprise.
Managed by the Age Friendly Foundation
I would say Las Vegas is beneficial to anyone who is 55 years or older considering it is a retiree community. This town caters to the elderly as it continues to build living communities for them such as assisted living or long-term care nursing facilities. Las Vegas also has real estate development that solely welcomes 55+ individuals such as Anthem, Macdonald Highlands and Del Webb Summerlin. In addition, Las Vegas provides recreational activities for 55 and older like gaming and receive complimentary rewards. However Las Vegas can be age unfriendly to the younger generation from minors to age 25 when it comes to recreational activities and educational funding. It could also be age unfriendly to the elderly regarding employment.
The accommodations aren't age friendly
Theres abundance of elderly
Need more care in the community with the crime rate and homelessness
its age friendly there is always something to do here casino movies shows
Senior Living Communities
Explore Home Care Options Near You
Find a Financial Professional Near You
Taxes