144 reviews
3.5 out of 5 stars
based on 186 ratings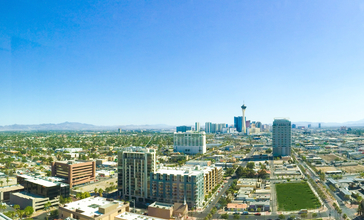 Las Vegas, officially the City of Las Vegas and often known simply as Vegas, is the 28th-most populated city in the United States, the most populated city in the state of Nevada, and the county seat of Clark County.
The city anchors the Las Vegas Valley metropolitan area and is the largest city within the greater Mojave Desert. Las Vegas is an internationally renowned major resort city, known primarily for its gambling, shopping, fine dining, entertainment, and nightlife. The Las Vegas Valley as a whole serves as the leading financial, commercial, and cultural center for Nevada.
The city bills itself as The Entertainment Capital of the World, and is famous for its mega casino–hotels and associated activities. It is a top three destination in the United States for business conventions and a global leader in the hospitality industry, claiming more AAA Five Diamond hotels than any other city in the world.
Today, Las Vegas annually ranks as one of the world's most visited tourist destinations. The city's tolerance for numerous forms of adult entertainment earned it the title of Sin City, and has made Las Vegas a popular setting for literature, films, television programs, and music videos. Las Vegas was settled in 1905 and officially incorporated in 1911. At the close of the 20th century, it was the most populated American city founded within that century (a similar distinction earned by Chicago in the 1800s).
Population growth has accelerated since the 1960s, and between 1990 and 2000 the population nearly doubled, increasing by 85.2%. Rapid growth has continued into the 21st century, and according to a 2017 estimate, the population is 648,224 with a regional population of 2,248,390.
"Las Vegas" is often used to describe areas beyond official city limits—especially the areas on and near the Las Vegas Strip, which is actually located within the unincorporated communities of Paradise, Winchester, and Enterprise.
Managed by the Age Friendly Foundation
I live in an age-restricted community in Las Vegas. I'm glad that there are many similar communities in this town. I think these communities are a quiet and safe environment. There is also a community center so we can enjoy an active life. However, considering the whole city, I think we needed more activities (painting, sewing, reading, exercise, etc.) that the elderly could participate in.
Stores and pharmacy are close . Several gyms and YMCA.
LasVegas have a lot of livability care for all different age groups. LasVegas have communities that engage in transporting clients no matter the age. I've worked in various properties the LasVegas offer for different age people.
Transportation is limited for seniors who are unable to drive especially during pandemic. There are many untapped seniors who bring strong work ethics and life skills experience who are not being utilized as they could and should be during this time. There is an opportunity to connect our elderly communities with working parent's who need child care right now that is being missed. Two needs may be served via that bridge. Socialization and contribution for seniors and mentoring or childcare for families who work.
Livable and cost of living is reasonable, Close to bus lines Close to Hospital and grocery stores
Senior Living Communities
Explore Home Care Options Near You
Find a Financial Professional Near You
Taxes