16 reviews
3 out of 5 stars
based on 16 ratings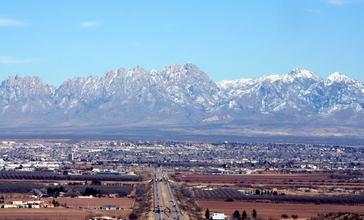 Las Cruces, also known as "The City of the Crosses", is the seat of Doña Ana County, New Mexico, United States. As of the 2010 census the population was 97,618, and in 2015 the estimated population was 101,643, making it the second largest city in the state, after Albuquerque. Las Cruces is the largest city in both Doña Ana County and southern New Mexico. The Las Cruces metropolitan area had an estimated population of 213,676 in 2014. It is the principal city of a metropolitan statistical area which encompasses all of Doña Ana County and is part of the larger El Paso–Las Cruces combined statistical area. Las Cruces is the economic and geographic center of the Mesilla Valley, the agricultural region on the floodplain of the Rio Grande which extends from Hatch to the west side of El Paso, Texas. Las Cruces is the home of New Mexico State University (NMSU), New Mexico's only land-grant university. The city's major employer is the federal government on nearby White Sands Test Facility and White Sands Missile Range. The Organ Mountains, 10 miles (16 km) to the east, are dominant in the city's landscape, along with the Doña Ana Mountains, Robledo Mountains, and Picacho Peak. Las Cruces lies 225 miles (362 km) south of Albuquerque, 48 miles (77 km) northwest of El Paso, Texas and 46 miles (74 km) north of the Mexican border at Santa Teresa. Spaceport America, which has corporate offices in Las Cruces, operates from 55 miles (89 km) to the north. They have completed several successful manned, suborbital flights. The city is also the headquarters for Virgin Galactic, the world's first company to offer sub-orbital spaceflights.
Managed by the Age Friendly Foundation
Close to 2 military bases and a NASA facility. A lot of veterans live in the area. We have bus service all over town. There are at least 3 senior centers with activities and classes for the seniors. Housing costs are below national average.
Most of them are retirements and very friendly
My husband and I live in Las Cruces, NM, since August 2018. We both have the impression that this City is very age friendly. Many people who plan to retire choose Las Cruces, NM. One reason is the beautiful and mild climate. Since elderly people often suffer from arthritis, the mild climate relieves the joint pain and is very good for the emotional well- being. There also is a Senior club, called "Senior Amigos", where Seniors are able to meet in classes, e.g.: exercise, language, dance classes, ect... There are several hospitals/clinics/family health practices in Las Cruces, NM, as well - so health wise, the Elderly are good taken care of.
I believe eveywhere is age friendly
A lot of elderly's everybody is friendly knows each other watches over houses taking your trash cans while you're on vacation .
Senior Living Communities
Explore Home Care Options Near You
Find a Financial Professional Near You
Taxes