29 reviews
3.5 out of 5 stars
based on 39 ratings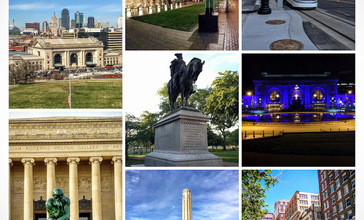 Kansas City is the largest city in Missouri, United States. According to the U.S. Census Bureau, the city had an estimated population of 481,420 in 2016, making it the 37th largest city by population in the United States. It is the central city of the Kansas City metropolitan area, which straddles the Kansas–Missouri border. Kansas City was founded in the 1830s as a Missouri River port at its confluence with the Kansas River coming in from the west. On June 1, 1850 the town of Kansas was incorporated; shortly after came the establishment of the Kansas Territory. Confusion between the two ensued and the name Kansas City was assigned to distinguish them soon after. Sitting on Missouri's western border, with Downtown near the confluence of the Kansas and Missouri rivers, the modern city encompasses some 319.03 square miles (826.3 km2), making it the 23rd largest city by total area in the United States. Most of the city lies within Jackson County, but portions spill into Clay, Cass, and Platte counties. Along with Independence, it serves as one of the two county seats for Jackson County. Major suburbs include the Missouri cities of Independence and Lee's Summit and the Kansas cities of Overland Park, Olathe, and Kansas City. The city is composed of several neighborhoods, including the River Market District in the north, the 18th and Vine District in the east, and the Country Club Plaza in the south. Kansas City is known for its long tradition of jazz music and culture, it's also known for its cuisine (including its distinctive style of barbecue) and its craft breweries.
Managed by the Age Friendly Foundation
A lot of elderly people around .. quiet a few family's we all help each out
There's a lot of things offer for Elders !
Kansas City is age friendly because of its affordability of housing, food and gas prices, also close proximity two stores in its suburbs. Kansas City seems to support all ages in employing at retail stores and other support jobs at this time.
My neighborhood is peaceful and lovely. Has amazing residence
Senior Living Communities
Explore Home Care Options Near You
Find a Financial Professional Near You
Taxes