9 reviews
4 out of 5 stars
based on 15 ratings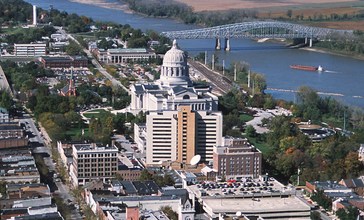 Jefferson City is the capital of the U.S. state of Missouri and the fifteenth most populous city in the state. It is also the county seat of Cole County and the principal city of the Jefferson City Metropolitan Statistical Area. Most of the city is in Cole County, with a small northern section extending into Callaway County. Jefferson City is named for Thomas Jefferson, the third president of the United States. Jefferson City currently holds, per Rand McNally, the title of America's "Most Beautiful Small Town." Jefferson City is on the northern edge of the Ozark Plateau on the southern side of the Missouri River in a region known as Mid-Missouri. It is also at the western edge of one of the major wine-producing regions of the Midwest, the Missouri Rhineland. The city is dominated by the domed Capitol, which rises from a bluff overlooking the Missouri River to the north; Lewis and Clark passed the bluff on their historic expedition upriver before Europeans established any settlement there. Often referred to as "Jeff", many of Jefferson City's primary employers fall within the service and manufacturing industries, similar to other Midwestern capital cities. Jefferson City is also home to Lincoln University, a public historically black land-grant university founded in 1866 by the 62nd Regiment of U.S. Colored Troops with additional support from the 65th Regiment of U.S. Colored Troops.
Managed by the Age Friendly Foundation
Its a good place to live for a young crowd, you have Lincoln University here and many other schools. It will be a good opportunity to start building your career with a lot of opportunities that are here.
It's a retirement/college town
Jefferson City is very age friendly because a lot of people there know each other and there is a lot of nice people that live if Jefferson city
Local pharmacies provide delivery to disabled or elderly customers. Grocery stores designate times for seniors during critical health alerts in community.
Senior Living Communities
Explore Home Care Options Near You
Find a Financial Professional Near You
Taxes