25 reviews
3.5 out of 5 stars
based on 25 ratings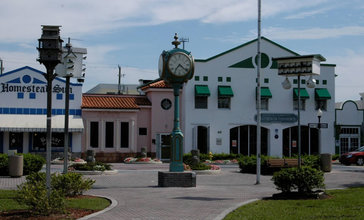 Homestead is a city within Miami-Dade County in the U.S. state of Florida, between Biscayne National Park to the east and Everglades National Park to the west. Homestead is primarily a Miami suburb and a major agricultural area. It is a principal city of the Miami metropolitan area, which was home to an estimated 6,012,331 people at the 2015 census. Homestead was incorporated in 1913 and is the second oldest city in Miami-Dade County next to the city of Miami. It is located approximately 35 miles (56 km) southwest of Miami, and 25 miles (40 km) northwest of Key Largo. The name originates from when the Florida East Coast Railway extension to Key West was being built. The rail line was passing through an area opened up for homesteading, and as the construction camp at the end of the line did not have a particular name, construction materials and supplies for the workers were consigned to "Homestead Country", shortened to "Homestead" by the engineers who mapped the area. The population was 60,512 at the 2010 census. Homestead and neighboring South Miami-Dade County communities bore the brunt of Category 5 Hurricane Andrew on August 24, 1992. The city of Homestead is located near the southern terminus of the Homestead Extension of Florida's Turnpike where it ends at its junction with U.S. 1. Homestead is immediately north and east of Florida City, and these two cities comprise the greater Homestead-Florida City area. Some of the notable unincorporated communities in the area are Redland, Leisure City, Naranja, and Princeton. Its race track is the annual finale of the Monster Energy NASCAR Cup Series as well as the two minor championships of NASCAR.
Managed by the Age Friendly Foundation
Care workers, who respect and adores people of age
Transportation and family oriented
We have a mix of all ages. This is also the entrance to Key West so we get a lot of retired tourists.
Good people, well spoken of opportunities, diligence.
Well I been living here for about 10 years my some of my neighbors are friendly meaning speaks and have conversations about our community.and some are just disrespectful.
Senior Living Communities
Explore Home Care Options Near You
Find a Financial Professional Near You
Taxes