5 reviews
3.5 out of 5 stars
based on 5 ratings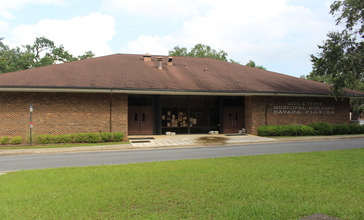 Havana is a town in Gadsden County, Florida, United States, and a suburb of Tallahassee.
The population was 1,754 at the 2010 census. It is part of the Tallahassee Metropolitan Statistical Area.
Geography
Havana is located in northeastern Gadsden County at 30°37′27″N 84°24′54″W (30.624245, -84.414955). U.S. Route 27 passes through the center of town, leading southeast 16 miles (26 km) to the center of Tallahassee and north 25 miles (40 km) to Bainbridge, Georgia. Florida State Road 12 intersects US 27 in Havana; it leads west 12 miles (19 km) to Quincy, the Gadsden County seat.
According to the United States Census Bureau, Havana has a total area of 2.8 square miles (7.2 km2), of which 0.02 square miles (0.04 km2), or 0.57%, is water.
Transportation
The Gadsden Connector, a bus route operated by Big Bend Transit, has a stop in Havana.
Education
The Gadsden County School District operates Havana Magnet School, which serves elementary and middle school grades. Gadsden County High School (formerly East Gadsden High School), outside of the city limits, is the only zoned high school in the county.
Previously the Havana area had three schools: Havana Elementary School, Havana Middle School, and Havana Northside High School. The school began using the Accelerated School program in Spring 1995 in order to improve academic performance. In 2001 Havana Elementary, which occupied an 18-acre (7.3 ha) area, had about 100 employees and 1,000 students; most of the students were low income, and 95% of the students were from African-American families. In 2003 Havana Northside High School and James A. Shanks High School in Quincy consolidated into East Gadsden High. In 2017 the high school section of West Gadsden High School consolidated into East Gadsden High, leaving the latter as the only remaining zoned high school in the county.
Tallavanna Christian School, a private school, is in an unincorporated area near Havana.
Managed by the Age Friendly Foundation
we all always helping someone and always smiling.
WE ALL SMILING AND LOVE HELP PEOPLE
The residents are very friendly
Town of Havana love people
The neighbors care about each other
Senior Living Communities
Explore Home Care Options Near You
Find a Financial Professional Near You
Taxes