Member of the World Health Organization Global Network of Age Friendly Cities and Communities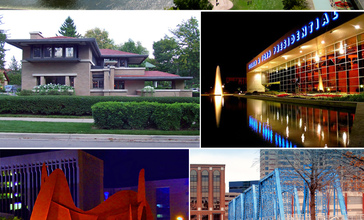 Grand Rapids is the second-largest city in Michigan, and the largest city in West Michigan. It is on the Grand River about 30 miles (48 km) east of Lake Michigan. As of the 2010 census, the city population was 188,040. In 2010, the Grand Rapids metropolitan area had a population of 1,005,648, and the combined statistical area of Grand Rapids-Muskegon-Holland had a population of 1,321,557. Grand Rapids is the county seat of Kent County. A historic furniture-manufacturing center, Grand Rapids is home to five of the world's leading office furniture companies, and is nicknamed Furniture City. Its more common modern nickname of River City refers to the landmark river for which it was named. The city and surrounding communities are economically diverse, based in the health care, information technology, automotive, aviation, and consumer goods manufacturing industries, among others. Grand Rapids is the childhood home of U.S. President Gerald Ford, who is buried with his wife Betty on the grounds of the Gerald R. Ford Presidential Museum in the city.
Managed by the Age Friendly Foundation
Friendly, by nature many things to do outside of your house in Grand Rapids
Transportation is good, park is nearby for everyone to enjoy.
WE HAVE EVERYTHING THAT A BIG CITY HAS, BUT WITH A SMALL TOWN FEEL !!!
Grand Rapids, Michigan is definitely not a pedestrian friendly city, nor are the streets well lit. The winters receive 70+ inches of snow. They are cold, dark, and blistering. Though local busing is very available, the wait areas are open to the elements and not lighted at night. Additionally, the cost of living is relatively high, housing ranges, in many areas,well above $250,000 to purchase while rent can range between $850 and $1600 monthly. Grand Rapids has a city income tax. Michigan has both, a state income tax and sales tax. Medical care is available, with top notch hospitals and care facilities, but, like all medical costs, they are drive by insurance companies and their own profits. Nonetheless, Grand Rapids seems very attractive to 25-45 year old age groups.
Senior Living Communities
Explore Home Care Options Near You
Find a Financial Professional Near You
Taxes