5 reviews
3 out of 5 stars
based on 5 ratings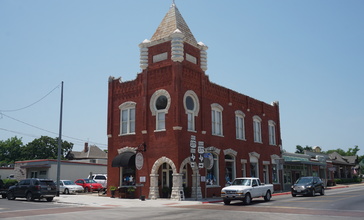 Granbury is a city and the county seat of Hood County, Texas, United States.

As of the 2010 census, the city population was 7,978 and is the principal city of the Granbury Micropolitan Statistical Area. Granbury is located 35 miles (56 km) southwest of Fort Worth, Texas.
Granbury started as a square and log cabin courthouse. Many of the buildings on the square are now registered historic landmarks, including the Granbury Opera House, which still hosts Broadway productions. The city name originated from the Confederate General Hiram B. Granberry. Some scholars, to explain why the city name is spelled differently, believe the name Granberry was misread on a document, but recent findings have concluded that Granberry chose to spell his name Granbury.
Recent expansion of the city was made possible by the damming of the Brazos River in 1969, which formed Lake Granbury, a long, narrow lake which flows through the city.
Granbury and Hood County are rich in Texas history. David (Davy) Crockett's wife, Elizabeth, settled in Hood County in 1853 following the Texas Revolution against Mexico. Crockett, as well as other Alamo participants, received 640 acres in land grants. The Crockett family received land in what is now Hood County. Elizabeth Crockett is buried in Acton State Historic Site,[6] the smallest state park in Texas. A large statue of Elizabeth Crockett marks her grave site. Several of Crockett's descendants still reside in Hood County.
John Wilkes Booth, according to Granbury legend, moved to Hood County and assumed the name of John St. Helen. A store on the historic town square, St. Helen's, is named after him.
Geography
Granbury is located at 32°26′31″N 97°46′53″W (32.441978, −97.781383). According to the United States Census Bureau, the city has a total area of 13.994 square miles (36.24 km2), of which, 13.386 square miles (34.67 km2) is land and 0.608 square miles (1.57 km2)(4.34%) is water.
Managed by the Age Friendly Foundation
They have older people working in their businesses.
This is a small town, not many jobs(from my perspective), especially jobs for seniors. I feel it is expensive, not a variety of shopping venues. It is a safer living area compared to other areas.
Lost of facilities and elderly disabled MHMR
This is an upscale gated community which houses the majority of retirees. And, baby boomers.
Community churches, great YMCA, public and Christian high school, a great array of medical centers with a great hospital, doctors offices everywhere, several restaurants, shopping centers, and retirement homes. Small town feeling with all needs met surrounded by a beautiful lake, with several adjoining villages.
Senior Living Communities
Explore Home Care Options Near You
Find a Financial Professional Near You
Taxes