21 reviews
3 out of 5 stars
based on 32 ratings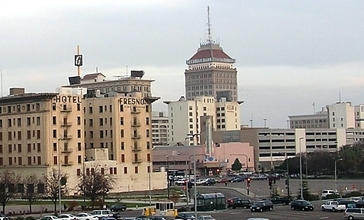 Fresno ( FREZ-no (Spanish for "ash tree") is a city in California, United States, and the county seat of Fresno County. It covers about 112 square miles (290 km2) in the center of the San Joaquin Valley, the southern portion of the California's Central Valley. Named for the abundant ash trees lining the San Joaquin River, Fresno was founded in 1872 as a railway station of the Central Pacific Railroad before it was incorporated in 1885. The city has since become an economic hub of Fresno County and the San Joaquin Valley, with much of the surrounding areas in the Metropolitan Fresno region predominantly tied to large-scale agricultural production. The population of Fresno grew from a 1960 census population of 134,000 to a 2000 census population of 428,000. With a census-estimated 2016 population of 520,159, Fresno is the fifth-most populous city in California, the most populous city in the Central Valley, the most populous inland city in California, and the 34th-most populous city in the nation. Fresno is near the geographical center of California. It lies approximately 220 miles (350 km) north of Los Angeles, 170 miles (270 km) south of the state capital, Sacramento, and 185 miles (300 km) southeast of San Francisco. Yosemite National Park is about 60 miles (100 km) to the north, Kings Canyon National Park is 60 miles (100 km) to the east, and Sequoia National Park is 75 miles (120 km) to the southeast.
Managed by the Age Friendly Foundation
CSUF ( Fresno State) is located here making it a college town ...there are always activities for young and old alike ...CSUF sports events as well as Concerts and Shows at Savemart Centre....Fresno Grizzlies Minor league baseball team plays here ....Healthcare is very good , 4-5 local hospitals along with many medical centers and complexes ....public transportation consists of bus, Amtrak, and Major Airport (FAT)..Also Handi-Ride for seniors and disabled to take them to Medical appts ...comes right to your door ...People are very friendly and helpful .... One of the lowest cost of living in CA... Fresh fruit and vegetables available year round ...there are at least 3-5 different Farmers Markets every week depending on the time of year as well as the Fruit Trail which consists of fruit stands up and down the Central Valley ...Awesome place to live ...Don't tell anybody 😜
Special call ahead transits for the elderly and handicapped. BUT you have to order it the day before and they still might be LATE getting there. AND they don't always drop off nor pick up near the destination (if it is a Mall type shop). I wish the government would use LYFT and UBER to do this. It would be more efficient. Just give a voucher to use. VERY HOT in summer. Not a time fro be walking. Most Seniors I know can not walk very far. Not enough street lights and or sidewalks in older area of town.
Schools are not near a busy street, there are light polls on every corner and the police station is near the main road.
To be honest, it's kind of neutral but there is plenty of convenient shopping nearby for people of all ages, and the public transportation system is very good and most drivers are very helpful toward the elderly.
Very age friendly we have a lot of elderly
Senior Living Communities
Explore Home Care Options Near You
Find a Financial Professional Near You
Taxes