Fort Washington

Fort Washington
Maryland
10 reviews
4 out of 5 stars
based on 10 ratings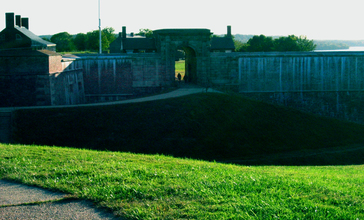 by
Unknown author
is licensed under
CC BY 2.5
Fort Washington is an unincorporated area and census-designated place in Prince George's County, Maryland. It borders the capital of the United States of America, Washington, D.C., situated just south of the downtown district. As of the 2010 census it had a population of 23,717. It is a prosperous community with an African American majority population. The Fort Washington community is located west of Maryland Route 210, with some additional area to the east of the highway.
Geography
Fort Washington is located at 38°44′37″N 77°0′37″W (38.743481, -77.010383). According to the United States Census Bureau, the CDP has a total area of 16.57 square miles (42.9 km2), of which 13.79 square miles (35.7 km2) is land and 2.78 square miles (7.2 km2), or 16.8%, is water.
First-time visitors are often confused by the several "Livingston Roads" which repeatedly crosses Route 210, as well as by the two separate "Old Fort Roads", causing them to make wrong turns off of Maryland Route 210. Eventually all roads intersecting Route 210 in the Fort Washington area (from the Beltway as far south as the highway 210 curve at Piscataway Creek) are planned for upgrading to controlled-access interchanges (eliminating all traffic signals) gradually during the 2020s decade.
Community institutions
The Maryland-National Capital Park and Planning Commission (M-NCPPC) maintains the Harmony Hall Regional Center, including the John Addison Concert Hall, site of community theater ("Tantallon Community Players"), art shows, frequent concerts, and a variety of classes for all ages. A YMCA fitness center operated from 2005 until 2016, and a community center facility opened in 2013 in Fort Washington Forest. The 12,000-member Ebenezer A.M.E. Church is noteworthy, as is a large nursery/landscaping business and a popular motorcycle shop. There is a small 50-bed hospital (Fort Washington Hospital). Many highly successful African-Americans live in Fort Washington; there are also some Ethiopian residents and a large, long-established ethnic Filipino population.
Managed by the Age Friendly Foundation
Transportation to and from depends on the location but I can adjust.
The community is very clean and suitable for the senior citizens and this is a are very respectable community.
Everyone in the town is actually cool and calm , it's really quite a lot of elder people and pets in the neighborhood.
General livability, care, working, education, transportation, community engagement
Senior Living Communities
Explore Home Care Options Near You
Find a Financial Professional Near You
Taxes