4 reviews
4 out of 5 stars
based on 4 ratings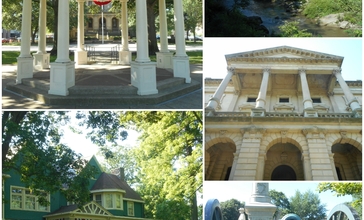 Elyria is a city in the Greater Cleveland metropolitan statistical area and the county seat of Lorain County, Ohio, United States, located at the forks of the Black River in Northeast Ohio.
As of the 2010 census, the city had a population of 54,533. The city is named for its founder, Heman Ely. The city is home to Lorain County Community College.
Etymology
The city's name is derived from the surname of its founder, Heman Ely, and Illyria, the historical name used by ancient Greeks and Romans to refer to the western Balkans.
Geography
Elyria, part of the Cleveland–Elyria–Mentor metropolitan area, is located at 41°22′24″N 82°6′6″W (41.373396, -82.101692). Elyria's primary zip code is 44035 with post office boxes being assigned the zip code 44036.
According to the United States Census Bureau, the city has a total area of 20.84 square miles (53.98 km2), of which 20.57 square miles (53.28 km2) is land and 0.27 square miles (0.70 km2) is water. The Black River flows through Elyria.
Community
Elyria is served by University Hospitals Elyria Medical Center. Neighborhoods are spread throughout all areas of the city, with most neighborhoods being traditional. Most housing developments are on the far east-side of the city.
Parks and Recreation
Elyria has a large number of parks and recreational centers that include a variety of activities such as baseball, playground equipment. The four recreational centers are named after their location on the map - North, East, South, and West. They each include one or more baseball fields and at least two tennis courts. There are two main parks, Cascade and Elywood, which are connected by a drive-on ford in the center. The Lorain County Metro Parks took over control of Cascade Park in late 2014, and has unveiled a master plan project throughout 2018 to restore the park for better and safer use, as well as maintain the park.
Managed by the Age Friendly Foundation
Elyria, OH, has no free/low cost senior/disabled transportation services, and it has no community center specifically for seniors.
I put "somewhat age friendly" because our city/county has no low-cost/free transportation services for those age 60, or over, or for the disabled.
Everyone is very nice speaks and smiles. Very friendly neighborhoods and community places to go and visit. You are always welcomed with a smile and are greeted when out in the community.
Hardly any jobs in elyria
Senior Living Communities
Explore Home Care Options Near You
Find a Financial Professional Near You
Taxes