10 reviews
3.5 out of 5 stars
based on 12 ratings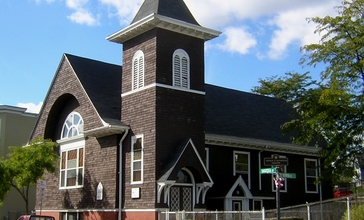 East Boston, nicknamed Eastie, is a neighborhood of Boston, Massachusetts with over 40,000 residents. The neighborhood was created by connecting several islands using land fill. It was annexed by Boston in 1836. It is separated from downtown Boston by Boston Harbor and bordered by Winthrop, Revere, and the Chelsea Creek. Directly east of East Boston, across Boston Inner Harbor, is the North End and Boston's Financial District. The neighborhood is easily accessible to downtown Boston via the MBTA Blue Line. East Boston has long provided a foothold for the latest immigrants with Irish, Russian Jews and later, Italians. John F. Kennedy's great grandfather was one of many Irish people to immigrate to East Boston, and the Kennedy family lived there for some time. From the 1990s into the early millennium, Latin American immigrants settled in East Boston, eventually composing more than fifty percent of the population in the 2010 neighborhood census. In recent years, East Boston has become home to a wave of young professionals seeking residence in Boston in newly renovated condominiums along Jeffries Point, Maverick Square, and the Eagle Hill waterfront, ushering in gentrification. Originally, five islands made up the East Boston neighborhood. To connect to the mainland to the north, fill was mostly used. Logan International Airport is located in East Boston, connecting Boston to domestic and international locations.
Managed by the Age Friendly Foundation
This community is very age friendly. There are a lot of optional uses of transportation for people of all ages. The comminity as a whole is one big family, a very friendly neighborhood that helps everyone from the youth to the elderly.
good public transportation with local stores and shops readily available in walking distances. Also convenient houses of worship. A good variety of beaches and public rest area
Plenty of transportation options also stores are within walking distance. The area has plenty of police protection as well as numerous fire stations. It also has numerous parks and beaches as well as a public library.
good public transportation with local stores and shops readily available in walking distances. Also convenient houses of worship. A good variety of beaches and public rest area
Senior Living Communities
Explore Home Care Options Near You
Find a Financial Professional Near You
Taxes