Des Moines

Des Moines
Iowa
19 reviews
4 out of 5 stars
based on 30 ratings
Member of the World Health Organization Global Network of Age Friendly Cities and Communities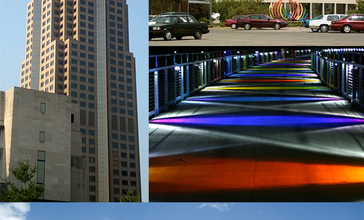 Des Moines is the capital and the most populous city in the U.S. state of Iowa. It is also the county seat of Polk County. A small part of the city extends into Warren County. It was incorporated on September 22, 1851, as Fort Des Moines, which was shortened to "Des Moines" in 1857. It is on and named after the Des Moines River, which likely was adapted from the French colonial name, Rivière des Moines, meaning "River of the Monks". The city's population was 216,553 as of the 2017 population estimate. The five-county metropolitan area is ranked 89th in terms of population in the United States with 634,725 residents according to the 2016 estimate by the United States Census Bureau. Des Moines is a major center of the U.S. insurance industry, and has a sizable financial services and publishing business base. The city was credited as the "number one spot for U.S. insurance companies" in a Business Wire article and named the third-largest "insurance capital" of the world. The city is the headquarters for the Principal Financial Group, the Meredith Corporation, Ruan Transportation, EMC Insurance Companies, and Wellmark Blue Cross Blue Shield. Other major corporations such as Wells Fargo, Voya Financial, Nationwide Mutual Insurance Company, ACE Limited, Marsh, Monsanto, and DuPont Pioneer have large operations in or near the metropolitan area. In recent years, Microsoft, Hewlett Packard, and Facebook have built data-processing and logistical facilities in the Des Moines area. Forbes ranked Des Moines as the "Best Place for Business" in both 2010 and 2013. In 2014, NBC ranked Des Moines as the "Wealthiest City in America" according to its criteria. Des Moines is an important city in U.S. presidential politics; as the state's capital, it is the site of the first caucuses of the presidential primary cycle. Many presidential candidates set up campaign headquarters in Des Moines. A 2007 article in The New York Times said, "If you have any desire to witness presidential candidates in the most close-up and intimate of settings, there is arguably no better place to go than Des Moines."
Managed by the Age Friendly Foundation
I believe des moines area is not that bad of an area to work
Everyone is vary friendly always smiling waving my neighbors always speak to me
Is because I love working with people, n taking care of them
Community Support and Resources
Great place, kind neighborhood
From a health care standpoint, the parking and sidewalks are not friendly to those who can't get around easily. But as a community I feel like they are taking steps to better care for the elderly and disabled.
As a new transplant, I enjoy the trees and opportunities for getting to know others. This city has many avenues to explore. Education and Arts and Sciences are important to me as well as family friendly places.
They just loving talk to you when they see you walking down street make sure you get home
Working,Education,Transportation
Senior Living Communities
Explore Home Care Options Near You
Find a Financial Professional Near You
Taxes