6 reviews
3 out of 5 stars
based on 6 ratings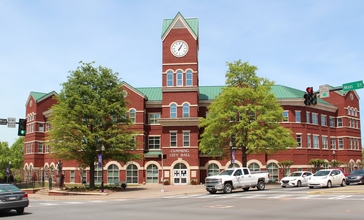 Cumming is a city in Forsyth County, Georgia, United States, and the sole incorporated area in the county.
It is part of the Atlanta metropolitan area. Its population was 5,430 at the 2010 census, up from 4,220 in 2000. Surrounding unincorporated areas with a Cumming mailing address have a population of approximately 100,000. Cumming is the county seat of Forsyth County.
Government
Cumming is a municipal corporation; since 1845 it has been governed by a mayor and a five-member city council. The mayor and council members serve staggered four-year terms. On December 22, 1834, Cumming was officially incorporated and five councilmen were appointed: John Jolly, William Martin, Daniel McCoy, John H. Russell, and Daniel Smith. The town of Cumming's charter was revised on December 22, 1845, resulting in new councilmen William F. Foster, Arthur Irwin, Major J. Lewis, Henry L. Sims, and Noah Strong.
House Bill 334 was enacted on October 10, 1885, giving Cumming a mayor and five-person city council.
Former mayor H. Ford Gravitt was first elected to the city council in 1966, and went on to be elected mayor in 1970. Gravitt was mayor of Cumming for 48 years before losing to rival candidate and current mayor Troy Brumbalow, who has held the office since January 2018.
Demographics
As of the census of 2010, there were 5,430 people, 1,893 households (of which 57.1% were families), and 1,081 families residing in the city. The population density was 787.0 people per square mile (276.6/km²). There were 2,037 housing units at an average density of 295.2 per square mile (98.8/km²). The racial makeup of the city was 76.6% White, 31.4% Hispanic or Latino of any race, 16.9% from other races, 2.9% Black, 1.7% from two or more races, 1.4% Asian and 0.5% Native American.
The median income for a household in the city was $37,118, and the median income for a family was $48,947. Full-time, year-round male workers had a median income of $35,402 versus $31,892 for similarly situated females. The per capita income for the city was $18,326. About 27.9% of families and 22.0% of the adult population were below the poverty line.
Managed by the Age Friendly Foundation
There is not a lot of public transportation.
extremely well cared for. all outside maintenance & wate, trash is covered by HOA. total HOW is $260.0 a month . ranch home 2 bdrm s 2 baths, FP & oversize 2 car at. garage. 55+,
Cumming city is one of the good city in Forsyth County. This city has good schools and they have good ratings.
There is no Senior Living for low income. The only bus transportation leaves to go to the Atlanta periodically during the day. I believe the senior center does have trasportation within the county.
Senior Living Communities
Explore Home Care Options Near You
Find a Financial Professional Near You
Taxes