3 reviews
3 out of 5 stars
based on 5 ratings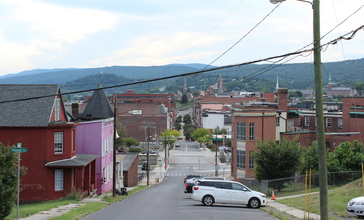 Cumberland is a city in and the county seat of Allegany County, Maryland, United States. The gateway to western Maryland, it is the primary city of the Cumberland, MD-WV Metropolitan Statistical Area. At the 2010 census, the city had a population of 20,859, and the metropolitan area had a population of 103,299. Cumberland is a regional business and commercial center for Western and the Potomac Highlands of West Virginia. Cumberland is commonly referred to as "Where The South Begins." Historically Cumberland was known as the "Queen City," as it was once the second largest in the state. Because of its strategic location on what became known as the Cumberland Road through the Appalachians, after the American Revolution it served as a historical outfitting and staging point for westward emigrant trail migrations throughout the first half of the 1800s. In this role, it supported the settlement of the Ohio Country and the lands in that latitude of the Louisiana Purchase. It also became an industrial center, served by major roads, a canal connecting to Washington, DC, and railroads. Industry declined after World War II. Much of the later urban, business and technological development in the state has been concentrated in eastern coastal cities. Today the Cumberland, MD-WV Metropolitan Statistical Area is one of the poorest in the United States, ranking 305th out of 318 metropolitan areas in per capita income.
Managed by the Age Friendly Foundation
Cumberland is a historic town and a lot of people come there to retire.
Public transportation is very poor in this area which forces many elderly to rely on friends, neighbors, relatives or to take cabs. If you live in your home upkeep can be expensive but rental rates are high here. There is access to fresh vegetables and many people keep home gardens if they are able or there is farmers markets here in various locations.
Senior Living Communities
Explore Home Care Options Near You
Find a Financial Professional Near You
Taxes