5 reviews
3 out of 5 stars
based on 9 ratings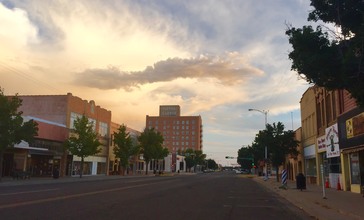 Clovis is the county seat of Curry County, New Mexico, United States, with a population of 37,775 as of the 2010 census, and a 2014 estimated population of 39,860. Clovis is located in the New Mexico portion of the Llano Estacado, in the eastern part of the state. A largely agricultural community, closely bordering Texas, it is noted for its role in early rock music history and for nearby Cannon Air Force Base. After the discovery of several "Clovis culture" sites in eastern North America in the 1930s, the Clovis people came to be regarded as the first human inhabitants who created a widespread culture in the New World. Clovis people are considered to be the ancestors of most of the indigenous cultures of the Americas. The Atchison, Topeka, & Santa Fe Railway system helped to establish Clovis over a hundred years ago, and for that railroad and its successor BNSF Railway continues to be a major hub of operations. Also notable is the Southwest Cheese Company, the largest cheddar cheese producer in North America. It is the principal city of the Clovis Micropolitan Statistical Area, which is part of the larger Clovis-Portales CSA.
Managed by the Age Friendly Foundation
we all communicate with each other
Clovis is a relatively small city that was founded by cattle barons who desired accessibility to the railroad. Years have passed and while the cattle cars still rattle through, passenger trains have long since bypassed this settlement that is quite isolated from any kind of metropolitan city or modern life. It is a poor city with little to offer for older adults. I think there is one befriend a grandparent charity, a hospice, maybe a meals-on-wheels. There is a community college that has a few senior classes and offers a discount. There is no arts community. There is little recreation. We have one small bus that runs daily. And I think we have three senior nursing homes. This isn't the best place to retire and live out your end years. I think that seniors would do better in a moderate climate in an aesthetically pleasing environment. There should be theatre and recreation. It should be a safe and accepting place. I have no desire to put down this city, but it just isn't good enough (in my opinion) for the elderly population. However, for young children, it isn't too bad. We have several new schools and strict teacher standards. Little league is quite strong here. We have a big, beautiful park. It's still not perfect, by any means, but people make the best with what they have.
I honestly just moved here so I'm still pretty new to this town.
There's many retirement homes here there's many Assisted Living places here also we have transportation to help individuals whether it be the older young to get to and from whether it be work a recreational activities or even just to go out and have a bite or shopping
Senior Living Communities
Explore Home Care Options Near You
Find a Financial Professional Near You
Taxes