Member of the World Health Organization Global Network of Age Friendly Cities and Communities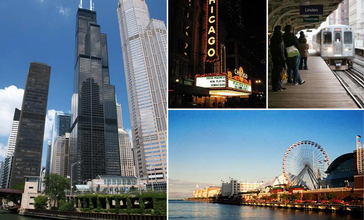 Chicago is located on the shores of freshwater Lake Michigan, and is the third most populous city in the United States.
Benefits: The Chicago Department of Family & Support Services links Chicago residents age 60 and older to more than 70 city, state and federal benefits to which they may be entitled
Caregiving Assistance: The Chicago Department of Senior Services offers a variety of programs and services for families who are caring for their older loved ones.
Senior Services: Senior Services is committed to serving older individuals with limited financial resources, those facing social isolation, and minority persons, in particular those with limited English proficiency.
Contacts1615 W. Chicago Ave, 5th Floor
Chicago, IL 60622-5127
312.743.0300
Social
Managed by the Age Friendly Foundation
the block that I live on , we all help each other out and watches out for each other as well as the kids on the block.
We all come together as a community for cleaning, helping each other, supporting each other needs. Watch out for each other children, cars & houses.
This neighborhood have a lot of children and elderly. Have a elementary school nearby, a park, corner stores, gas stations, and s shopping lot. I believe this is a friendly neighborhood because everyone knows one another and help each other.
There are several Senior Housing and Assisted Living residences in this community. My residence, in particular, has a shuttle that takes the senior/retired residents to two different shopping sites four times a month. The shopping sites have numerous handicap parking spaces, and the neighborhood is very close to the downtown Chicago area where there are activities for seniors at several Cultural Centers.
Senior citizen buildings that house both senior citizens and veterans...Many shopping places near the buildings so that the ederly would not have to travel far. They have transportation just made for them. Learning centers inside the living buildings aswell around them.
Senior Living Communities
Explore Home Care Options Near You
Find a Financial Professional Near You
Taxes