Charlottesville

Charlottesville
Virginia
4 reviews
4 out of 5 stars
based on 4 ratings
Member of the World Health Organization Global Network of Age Friendly Cities and Communities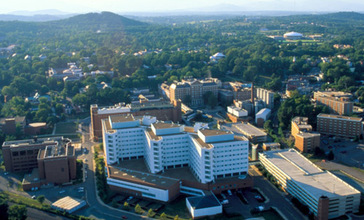 Charlottesville, colloquially known as Cville by locals, is an independent city in the Commonwealth of Virginia. In 2016, an estimated 46,912 people lived within the city limits. It is the county seat of Albemarle County, which surrounds the city, though the two are separate legal entities. This means a Charlottesville resident will list the City of Charlottesville as both their county and city on official paperwork. It is named after the British Queen Charlotte of Mecklenburg-Strelitz. The Bureau of Economic Analysis combines the City of Charlottesville with the County of Albemarle for statistical purposes, bringing its steadily growing population to approximately 150,000. Charlottesville is the heart of the Charlottesville metropolitan area, which includes Albemarle, Fluvanna, Greene and Nelson counties. Charlottesville was the home of two Presidents, Thomas Jefferson and James Monroe. While both were Governor of Virginia, they lived in Charlottesville, and traveled to and from Richmond, along the 71-mile (114 km) historic Three Notch'd Road. Orange, located 26 miles (42 km) northeast of the city, was the hometown of President James Madison. The University of Virginia, founded by Thomas Jefferson and one of the original Public Ivies, straddles the city's southwestern border. Monticello, 3 miles (4.8 km) southeast of the city, is, along with the University of Virginia, a UNESCO World Heritage Site, attracting thousands of tourists every year.
Managed by the Age Friendly Foundation
I see a great number of retired residents in an around where I live. I also have noted that there is a wonderful bus system for transportation around town. The Senior Center is a very active senior-friendly organization. I also see a number of elderly residents who are gainfully employed in numerous companies around town.
N/a. I work more than I am home to engage with my neighbors
Just was an opinion,not much thought about it!
It still has the small town feeling here, in a family way of looking out for each other.
Senior Living Communities
Explore Home Care Options Near You
Find a Financial Professional Near You
Taxes