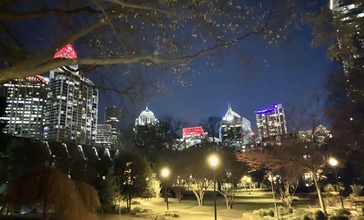 Charlotte is the most populous city in the U.S. state of North Carolina 1.
Centralina Area Agency on Aging:

Centralina Area Agency on Aging (AAA) strives to support and enhance the capacity of service and advocacy systems to promote independence, preserve dignity and advocate for the rights of older and disabled adults and their families.
The Centralina AAA serves a nine county region and is an "on-the-ground" organization charged with helping vulnerable older adults and people with disabilities live with independence and dignity in their homes and communities.  The CAAA serves the counties of Anson, Cabarrus, Gaston, Iredell, Lincoln, Mecklenburg, Rowan, Stanly & Union.  We are located at 9815 David Taylor Dr., Charlotte, NC  28262.
Contacts
 9815 David Taylor Dr. Charlotte, NC 28262   
704-372-2416
Social
Managed by the Age Friendly Foundation
It's a mixed community where the elderly are often seen out walking with their pets.
Charlotte is very age friendly. There is an abundance of schooling, elderly care, day cares, and easily accessible transportation.
The city of Charlotte offers many living areas and transportation, which makes them age friendly. Also very age friendly for people with disabilities that are elderly.
Here in Charlotte or rather North Carolina in general we have what is called a Equal Employment Opportunity. Anyone any age, race, or sex has the opportunity to work our town does not discriminate. All ages are welcomed in the community when it comes to transportation a lot of people of older age are helped by the younger community, we all take care of each other.
I have been back in this neighborhood for the last 20 years most of the people I knew when I was a child I tried to take care of just making sure they were okay if we had a storm or cooking a large Sunday dinner a lot of them have passed away and we are getting more younger neighbors which is okay too they all seem to be nice and very accommodating. We are like a little community we look after each other.
Senior Living Communities
Explore Home Care Options Near You
Find a Financial Professional Near You
Taxes