10 reviews
5 out of 5 stars
based on 11 ratings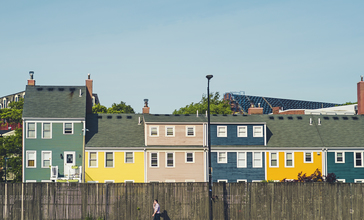 Charlestown is the oldest neighborhood in Boston, Massachusetts, United States. Originally called Mishawum by the Massachusett, it is located on a peninsula north of the Charles River, across from downtown Boston, and also adjoins the Mystic River and Boston Harbor. Charlestown was laid out in 1629 by engineer Thomas Graves, one of its early settlers, in the reign of Charles I of England. It was originally a separate town and the first capital of the Massachusetts Bay Colony. Charlestown became a city in 1848 and was annexed by Boston on January 5, 1874. With that, it also switched from Middlesex County, to which it had belonged since 1643, to Suffolk County. It has had a substantial Irish American population since the migration of Irish people during the Great Irish Famine of the 1840s. Since the late 1980s the neighborhood has changed dramatically because of its proximity to downtown and its colonial architecture. A mix of Yuppie and Upper-middle class gentrification has influenced much of the area, as it has in many of Boston's neighborhoods, but Charlestown still maintains a strong Irish American population and "Townie" identity. In the 21st century, Charlestown's diversity has expanded dramatically, along with growing rates of the very poor and very wealthy. Today Charlestown is a largely residential neighborhood, with much housing near the waterfront, overlooking the Boston skyline. Charlestown is home to many historic sites, hospitals and organizations, with access from the Orange Line Sullivan Square or Community College stops or the I-93 expressway.
Managed by the Age Friendly Foundation
Charlestown, Massachusetts, located North of the Charles River on a peninsula connected to downtown Boston by the Charlestown bridge, is well known for its rich history. The neighborhood is home to the Bunker Hill Monument, The Freedom Trail, and the famous U.S.S. Constitution. The oldest neighborhood in Massachusetts, Charlestown has seen its share of changes over time by becoming more diverse, young, and gentrified.
For many, Charlestown provides ample accommodation for adults as they mature into their later years. The prestigious Mass General Hospital is located just across the Charlestown Bridge, allowing convenient access for those who seeking treatment, and the Mass General Charlestown Healthcare Center is conveniently located in the heart of Charlestown for easy access to care. The Center offers wheelchair accessible transportation for the elderly and disabled persons in the community who need assistance to make it to their appointments. If one is looking for public transportation options, the MBTA orange line has a stop in Sullivan Square, located on the Charlestown neck. Charlestown has had its share of gentrification in recent years, leading to a sharp divide between demographics in the neighborhood.
Recently, there has been an increase in the wealthy population, as well as an increase in the very poor. If you can afford the upscale housing in Charlestown, the living areas, food options, and shopping are nice and continuing to grow in quality. Residents who have grown up there stress the difficulties of dealing with the changes with an increased cost of living. Yet the community is described as very friendly and accepting to newcomers. Residents say that they feel very safe in Charlestown, but longtime residents acknowledge their frustration with the lack of affordable housing, shopping, and a general crowdedness of the neighborhood.
Age friendship as it's peaceful and working kind of environment, easy transportation for elderly people.
transportation, work, care, and the community. It's a mixture of both millenials and senior Citizens
Transportation is good. Healthcare is available. There is a big sense of community here, for elderly and non elderly people. There are so many people who have lived here their whole lives and they are very friendly. People are very accepting if you choose to be a part of the community. I did not, so a lot of people here do not like me. It is getting very expensive to live here for people. A lot of new people are moving here because like I said, it is a great area, but the cost of living here is becoming higher.
I would say Charlestown is age friendly. There is a Senior center that you can go to if you want, and they have activities for people to stay busy with. I have not been in a long time but everything I have heard about it is good. I think it is a very safe place to live too. For healthcare, it is very convenient to live here. I have to go into Mass General once every few weeks and it doesn't take me long to get there. I think the Senior Center might also have a Health clinic or something like that. But I know many families here are affected by drug addiction, and I think some changes have been made to offer people help. So more help for that problem would be one suggestion many people would like to see.
Senior Living Communities
Explore Home Care Options Near You
Find a Financial Professional Near You
Taxes