Member of the World Health Organization Global Network of Age Friendly Cities and Communities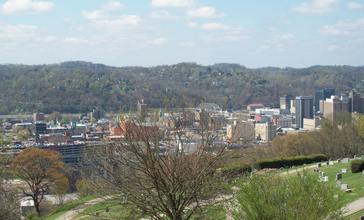 Charleston is the capital of the U.S. state of West Virginia. It is also the county seat of Kanawha County. The city is located at the confluence of the Elk and Kanawha Rivers. As of the 2013 Census Estimate, it had a population of 50,821, making it the most populous city in the state, while its metropolitan area had 224,743 residents. It is a center of government, commerce, and industry. Early industries important to Charleston included salt and the first natural gas well. Later, coal became central to economic prosperity in the city and the surrounding area. Today, trade, utilities, government, medicine, and education play central roles in the city's economy. The first permanent settlement, Ft. Lee, was built in 1788. In 1791, Daniel Boone was a member of the Kanawha County Assembly. Charleston is the home of the West Virginia Power minor league baseball team, the West Virginia Wild minor league basketball team, and the annual 15-mile (24 km) Charleston Distance Run. Yeager Airport and the University of Charleston are also located in the city. West Virginia University, Marshall University, and West Virginia State University also have higher education campuses in the area.
Managed by the Age Friendly Foundation
Availability of public transportation and community support for seniors in regard to availability of recreational and health care
Our community is made of retirement citizen and family that may need help now or later
Seniors who live here are always looked after to se that they are ok, especially during bad weather.
Senior Living Communities
Explore Home Care Options Near You
Find a Financial Professional Near You
Taxes