Cedar Rapids

Cedar Rapids
Iowa
4 reviews
3.5 out of 5 stars
based on 5 ratings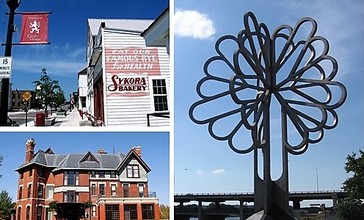 Cedar Rapids is the second-largest city in Iowa and is the county seat of Linn County. The city lies on both banks of the Cedar River, 20 miles (32 km) north of Iowa City and 100 miles (160 km) northeast of Des Moines, the state's capital and largest city. It is a part of the Cedar Rapids/Iowa City Corridor of Linn, Benton, Cedar, Jones, Johnson, and Washington counties. As of the 2010 United States Census, the city population was 126,326. The estimated population of the three-county Metropolitan Statistical Area, which includes the nearby cities of Marion and Hiawatha, was 255,452 in 2008. Cedar Rapids is an economic hub of the state, located in the core of the Interstate 380. A flourishing center for arts and culture in Eastern Iowa, the city is home to the Cedar Rapids Museum of Art, the National Czech & Slovak Museum & Library, the Paramount Theatre, Orchestra Iowa, Theatre Cedar Rapids, the African-American Historical Museum and Cultural Center of Iowa, the Iowa Cultural Corridor Alliance. In the 1990s and 2000s, several Cedar Rapidians became well-known actors, including Bobby Driscoll, Ashton Kutcher, Elijah Wood, and Ron Livingston. The city is the setting for the musical The Pajama Game and the comedy film Cedar Rapids. Among the famous people who have lived in Cedar Rapids are American Gothic painter Grant Wood, journalist and historian William L. Shirer, writer and photographer Carl Van Vechten, and aerodynamics pioneer Dr. Alexander Lippisch. The area has also produced professional athletes such as Landon Cassill, Ryan Sweeney, Trent Green, Zach Johnson, and Kurt Warner, as well as Mark Walter, co-owner and chairman of baseball's Los Angeles Dodgers. Cedar Rapids is nicknamed the "City of Five Seasons", for the "fifth season", which is time to enjoy the other four. The symbol of the five seasons is the Tree of Five Seasons sculpture in downtown along the north river bank. The name "Five Seasons" and representations of the sculpture appear throughout the city in many forms.
Managed by the Age Friendly Foundation
I had graduated from college at age 52 and was excited to work with at risk teens and youth! I can not specify but I felt my age was a factor as all the counselors were in their 20's.
Like the Oakhill Jackson comment, the street revisions being made are not age-friendly, as trying to shoehorn in bike lanes put different layouts at intersections which are confusing, trying to copycat roundabouts, adding curves in straight streets to shoehorn turn lanes in, while other streets deteriorate at a rate faster than being fixed. Other transportation is just adequate. Cedar Rapids is not very walkable. Plenty of restaurants, a few decent. Entertainment is average. The fiasco with utility work coordination is correct, as have seen concrete less than two years old ripped up to make changes (multiple times in some locations!), and a bump-out for parking changed by Bever Park as elderly where driving over it and damaging their cars. Old adage - Cannot do it right the first time but can do it over is ironically true on projects. Poor communications with residents in construction areas, and they should poll ideas from affected residents on these shoehorns and retrofits. Very true about too many blanket policies, such as on sidewalk stubs to driveways (and do not put in sidewalks the right way for a 4 season environment).
Cedar Rapids is age friendly because there's people of all walks of life low crime good education and job related opportunities.
Having suffered through a major flood, the city is trying to revamp streets, of which most are in poor shape. The revamps however include retrofitting bike lanes and roundabouts in existing infrastructure (too much copycatting from other cities), resulting in convoluted layouts. Streets remodeled that used to be straight now curve back and forth to add turn lanes, have to switch lanes to continue straight. All this will contribute to confusion for seniors meaning their accident rate will go up. There is only bus transportation and it is okay. A few good restaurants and area entertainment is fair, with better venues in surrounding towns. Costs of city utilities have passed inflation and coordination of development with utilities and other has been poor. Have seen utility work come in after new sidewalks put down, and those sidewalks ripped up and replaced again. Too many blanket code policies instead of common sense approach. Some good small communities around to live in. Local government keeps pushing for things do not necessarily need (getting casino for rich investors, but have enough of those in Iowa and it will just drive crime up).
Senior Living Communities
Explore Home Care Options Near You
Find a Financial Professional Near You
Taxes