6 reviews
3.5 out of 5 stars
based on 8 ratings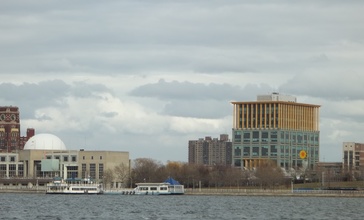 Camden is a city in Camden County, New Jersey. Camden is located directly across the Delaware River from Philadelphia, Pennsylvania. At the 2010 United States Census, the city had a population of 77,344. Camden is the 12th most populous municipality in New Jersey. The city was incorporated on February 13, 1828. Camden has been the county seat of Camden County since the county was formed on March 13, 1844. The city derives its name from Charles Pratt, 1st Earl Camden. Camden is made up of over twenty different neighborhoods. The city was consistently prosperous throughout the Great Depression and World War II. After World War II, Camden manufacturers began gradually closing their factories and moving out of the city. With the loss of manufacturing jobs came a sharp decline in population numbers. Suburbanization also influenced the drop in population. Civil unrest and crime became common in Camden. In 1971, civil unrest reached its peak with riots breaking out in response to the death of Horacio Jimenez, a Puerto Rican motorist who was killed by two white police officers. The Camden waterfront holds four tourist attractions, the USS New Jersey; the BB&T Pavilion; Campbell's Field; and the Adventure Aquarium. Campbell's Field had been home to the minor league baseball team, the Camden Riversharks but is currently scheduled to be torn down. The city is the home of Rutgers University–Camden, which was founded as the South Jersey Law School in 1926, and Cooper Medical School of Rowan University, which opened in 2012. Camden also houses both Cooper University Hospital and Our Lady of Lourdes Medical Center. The "eds and meds" institutions account for roughly 45% of Camden's total employment. Camden had the highest crime rate in the United States in 2012, with 2,566 violent crimes for every 100,000 people, 6.6 times higher than the national average of 387 violent crimes per 100,000 citizens. There were 23 murders in Camden in 2017, the lowest in the city in three decades, part of a sharp drop in violent crime since 2012.
Managed by the Age Friendly Foundation
The entire Camden county is age friendly. We have alot of hospitals and senior things to do and go.
Means of transportation for some people
Lots of old timers and senior activities in the community.
Transportation, working, education and community engagement. General livability is progressing in this area.
Senior Living Communities
Explore Home Care Options Near You
Find a Financial Professional Near You
Taxes